December 24, 2013 -
Jeff Fedotin
Why Nick Saban was a better NFL coach than you think
He is the highest paid college football coach in the land. He has won four NCAA titles, including three of the last four.
"He's a dominant coach," said linebacker Nico Johnson, who started 21 games at Alabama. "He inspired us."
But as Nick Saban prepares his team for the Jan. 2 Sugar Bowl against Oklahoma, he has one perceived black mark on his coaching resume — his stint with the Miami Dolphins.
Although he was not a success there, it was not the failure many make it out to be.
Saban took over a 4-12 Dolphins team, improving Miami to a respectable 9-7 and second-place AFC East finish in 2005. The next year his Dolphins went 6-10 before Saban decided to move on to Alabama.
"He just loved the atmosphere as far as college a lot more than he did the NFL," Johnson, who played on the 2009, 2011 and 2012 national championship teams, told NFP.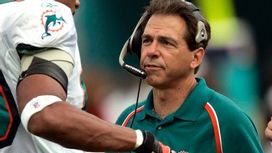 Saban took a four-win Dolphins team and squeezed nine victories out of them the following season.
After Saban left the Dolphins, Miami fell to 1-15 the next year.
Saban's overall 15-17 record (a .469 winning percentage) is less than stellar, but it is far from awful.
And it is more impressive considering the circumstances, which included an old defense, poor quarterback play and an oft-suspended running back.
The 2005 team
Saban's biggest challenge facing the 2005 Dolphins may have involved team chemistry. After quitting football for a year, running back Ricky Williams returned, following a four-game suspension.
Saban repaired a locker room alienated by Williams' abrupt departure and meshed the RB talents of Williams and Ronnie Brown.
Most think of the early 2000 Dolphins as being a dominant defensive team. But while defensive end Jason Taylor (who had 12 sacks that year) and linebacker Zach Thomas made the Pro Bowl, the aging squad started seven defensive players 30 or older.
The entire starting defensive line — Kevin Carter (32 years old), Keith Traylor (36), Vonnie Holliday (30) and Taylor (31) — was older than 30, and it showed. The team's defense ranked 18th in the league.
More problematic than the running back situation or the defense's old legs was the QB play.
Gus Frerotte, the 34-year-old, journeyman quarterback, started 15 games for the Dolphins, completing just 52 percent of his passes.
Winning nine games with Frerotte as his quarterback is a testament to Saban's ability to get the most out of his team.
The 2006 team
Saban knew he had to improve at quarterback, the weakest part of his squad, and the passing game became even more of an issue after Williams was suspended for the entire 2006 season, following his fourth violation of the league's substance abuse policy.
Saban and the Dolphins looked at two veteran starting QB options, ultimately trading a second-round draft pick for Daunte Culpepper instead of signing free agent Drew Brees.
Although that decision now looks like a horrendous move, one must keep it in historical perspective.
Culpepper made the Pro Bowl in 2003 and 2004 before suffering a season-ending knee injury during the middle of the 2005 season. Brees suffered a complete, 360-degree tear of his labrum and a partial tear of his rotator cuff in the last game of the 2005 season. The shoulder damage was so bad that Dr. James Andrews told Sports Illustrated it was "one of the most unique injuries" he had ever seen.
Would you rather have a quarterback with a bad knee or a quarterback with a historically bad throwing shoulder?
Culpepper, though, struggled through four starts with the Dolphins, completing 60.4 percent of his passes for 929 yards, two touchdowns, three interceptions and a QB rating of 77.
Meanwhile, Brees completed 64.3 percent of his passes for 4,418 yards, 26 touchdowns, 11 interceptions and a QB rating of 96.2 while leading the Saints to the NFC Championship Game one year after New Orleans finished an NFC-worst 3-13.
The failure to choose the right quarterback would ultimately be the undoing of the 2006 Dolphins team and Saban's tenure.
Backup QB Joey Harrington would start 11 games, completing 57.5 percent of his passes while throwing 12 touchdowns and 15 interceptions for a QB rating of 68.2.
Despite the lackluster QB play, Saban did extract some moments out of his team. Under his watch, Taylor had the best year of his career to earn Defensive Player of the Year honors. He recorded 13.5 sacks, nine forced fumbles and two interceptions for touchdowns.
He helped lead an impressive road victory against the Super Bowl-bound Bears in Week 9. That 31-13 victory proved to be the high water mark of the year.
Coaching comparison
Part of the reason Saban was such an attractive NFL candidate in 2005 was because of his experience under future Hall of Fame coach Bill Belichick.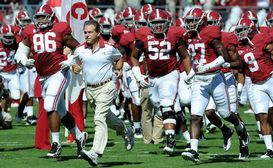 Saban left Miami for Alabama, where he won three NCAA titles over the last four years.
Saban served as Belichick's defensive coordinator on the Browns from 1991-94. Though Belichick has led the Patriots to five Super Bowl appearances, he went 36-44 (a .450 winning percentage) in Cleveland, a worse NFL head coaching mark than Saban had in Miami.
Although the 49ers' Jim Harbaugh and Eagles' Chip Kelly have had recent success, going straight from college to the pros, the perception of Saban was lumped in with two other college coaches who struggled to make the transition to the NFL.
After building a reputation as an offensive guru at Louisville, Bobby Petrino signed a five-year, $24 million contract with the Falcons in 2007. Without QB Michael Vick, who was sentenced to 23 months in prison, Petrino went 3-10 and quit after 13 games. In a classless move, he announced his departure to his team by leaving a four-sentence letter in each player's locker.
As a national championship-winning coach who also left an SEC powerhouse for the NFL, Steve Spurrier is the best comparison to Saban. Like Saban, Spurrier lasted just two NFL seasons before returning to the SEC.
His time with the Redskins, however, was also much less successful than Saban's with the Dolphins. Spurrier went just 12-20 (a .375 winning percentage) during the 2002-03 seasons.
Moreover, he never made much of an effort to adjust to the NFL, using his old college scheme and bringing along many of his former Florida skill players, including Chris Doering, Jacquez Green, Taylor Jacobs, Willie Jackson, Shane Matthews and Danny Wuerffel, and many of his former Florida assistants.
Petrino and Spurrier — like Saban — realized the college game fit them better and returned to the NCAA.
Still at Alabama, Saban is now 62 despite looking much younger.
Even at that age, he remained an attractive coaching candidate for Texas. The school's courtship reportedly led Alabama to extend Saban's contract to more than $7 million annually.
But Johnson, a Chiefs rookie, said Alabama will be the last stop for the peripatetic Saban, who was the head coach at Michigan State, LSU, the Dolphins and Alabama over a stretch from 1995 to 2007.
"His next step is retirement," Johnson said.
Follow Jeff on Twitter: @JFedotin
Jeff Fedotin has written for Packers.com, Pro Football Weekly, ESPN The Magazine , the Lawrence (Kan.) Journal-World and Rivals.com. After graduating from Northwestern University, he interned for the Buffalo Bills. During his football playing days at Pembroke Hill (Mo.) School, Fedotin was known for his bad knees and even worse blocking.