July 15, 2013 -
Jeff Fedotin
Why Nnamdi can bounce back in San Fran
The 49ers' signing of Nnamdi Asomugha flew under the radar this offseason. Any attention the former Pro Bowler has received seemed to focus on his summer marriage to actress Kerry Washington.
But his union with the 49ers makes sense for both the team and player. The savvy 49ers made a low-risk, high-reward move, signing the cornerback to a one-year deal worth up to $3 million, which reportedly did not include any guaranteed money. Asomugha, meanwhile, can still bank the $4 million the Eagles owe him.
And Asomugha's aggressive style is a better match with San Francisco, following his disastrous two-year stint with the Eagles.
"Bottom line is I didn't get it done," Asomugha said. "I've always wanted to dominate and be the best."
Just three offseasons ago, he was considered the second best cornerback in the NFL — after Darrelle Revis. Offenses avoided Asomugha. In 2009 he had just one interception and four passes defended because teams threw to the other side of the field rather than test him.
The Eagles signed the shutdown corner to a five-year, $60 million contract, and that acquisition was a reason many predicted the "Dream Team" would become one of the league's best squads.
Instead Asomugha and the Eagles struggled, failing to reach the playoffs in either season.
"There were a number of reasons. I'm not the type of person that lists," Asomugha said. "The bottom line was that it didn't work out. I tried my hardest for it to work out. I believed all the way up until the end that it was gonna work out. I wanted it to work out so badly. I wanted to win in Philadelphia. I wanted to be great in Philadelphia."
One of the reasons it didn't work out was that the Eagles used Asomugha in the wrong scheme. He played a lot of zone in Philadelphia, but the 6-2, 210-pounder thrives in physical, man-to-man coverage, a Raiders staple under Al Davis.
Perhaps the most indelible image from his Philadelphia tenure was of Giants wide receiver Victor Cruz, then a relative unknown, torching him for 74 and 28-yard touchdown receptions during the Giants' 29-16 win on Sept. 25, 2011.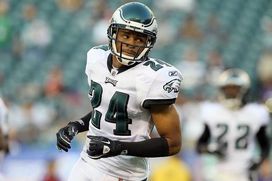 Asomugha ranked as the 101st best cornerback in the NFL last season, according to Pro Football Focus.
Plays like that are why the Eagles released Asomugha, who was scheduled to make $15 million in 2013.
But the 49ers employ a very physical secondary, and they should make better use of his bump-and-run ability. That is a major reason why Asomugha signed with the 49ers, choosing them over the Saints in free agency.
"I had to make sure the scheme was something I liked," Asomugha said. "I was able to find San Francisco with a scheme that I thought was just really impressive."
The 49ers executed that scheme in Week 1 of the 2012 season against Green Bay. The San Francisco secondary beat up the Packers receivers, and the Green Bay offense struggled, putting up just 15 points. The 49ers employed a similar style to thwart quarterback Aaron Rodgers again in the playoffs as he threw for 257 yards and an interception during the 45-31 divisional playoff loss.
But that pass defense, one that was ranked fourth in the regular season, fell apart during the rest of the postseason. Falcons quarterback Matt Ryan threw for 396 yards in the NFC Championship Game, and Ravens quarterback Joe Flacco posted a 124.2 QB rating against San Fran in the Super Bowl while repeatedly targeting cornerback Chris Culliver.
With linebacker Aldon Smith mired in a late-season slump and defensive lineman Justin Smith still recovering from a torn triceps, the pass rush was not the same. But those playoff performances also showed the 49ers needed a cornerback upgrade.
Asomugha could be just the player to provide that.
It's a nice fit for the California native as well. He grew up in Los Angeles before playing four years at California-Berkeley. Asomugha stayed in the Bay Area, earning three Pro Bowl berths while with the Oakland Raiders from 2003 to 2010.
"It feels good being back here," he said. "The familiarity is here. I don't kind of have to acclimate to a new culture and new surroundings. The focus can be on football, so that's a beautiful thing."
Back on the West Coast, Asomugha has a chip on his shoulder after his two lackluster seasons in Philadelphia.
"I always had a chip," he said. "The chip might be a little bigger now, but it's always been there."
Asomugha is clearly motivated, and the 49ers staff should put him in schemes that suit his skills. But could his performance with the Eagles have slipped for another reason? Perhaps Asomugha, who turned 32 on July 6, has lost a step.
He refuted that notion as accounting for his disappointing play in Philadelphia.
"I don't think it's an age thing," he said. "It's based off of not playing well during a difficult two years."
Even if the 32-year-old cannot regain the dominant cornerback form he showed while playing with the Raiders, San Francisco could move him to safety, a position he excelled at during his junior year at Cal. There he and rookie Eric Reid could help compensate for the loss of Pro Bowl safety Dashon Goldson.
Wherever he plays, Asomugha is ready to rebound after struggling on the East Coast.
"I just want to get on the field and have fun again," he said.
Follow Jeff on Twitter: @JFedotin
Jeff Fedotin has written for Packers.com, Pro Football Weekly, ESPN The Magazine, the Lawrence (Kan.) Journal-World and Rivals.com. After graduating from Northwestern University, he interned for the Buffalo Bills. During his football playing days at Pembroke Hill (Mo.) School, Fedotin was known for his bad knees and even worse blocking.