October 28, 2014 -
Jeff Fedotin
Why Philip Rivers deserves more love
Google "rivers crybaby" and you will receive 241,000 hits, including one for a Facebook page called "Philip 'Cry me a' Rivers."
Just as Bears quarterback "Smokin'" Jay Cutler has been negatively labeled apathetic and indifferent, the Internet has trolled Chargers quarterback Philip Rivers for acting like a whiny, little kid.
Perhaps there's a grain of truth to that, but Rivers certainly comes across favorably in person. And on the field, the 32-year-old is having an excellent season.
The quarterback has completed 68.3 percent of his passes for 2,213 yards, 20 touchdowns, five interceptions and a QB rating of 109.9.
"He's probably playing the position as well as anybody in the league," said Chiefs defensive coordinator Bob Sutton.
Though Sutton's Chiefs defeated Rivers, and the Chargers lost last Thursday to the Broncos, Rivers remains worthy of MVP consideration along with the more heralded choices — running back DeMarco Murray and quarterbacks Peyton Manning and Aaron Rodgers.
And those other stars have much better supporting casts.
The Chargers' top three running backs — Ryan Mathews, Danny Woodhead and Donald Brown — all have been injured, and so San Diego's bell cow back is Branden Oliver, a 5'7" undrafted rookie from the University of Buffalo.
Rivers does not have targets like Demaryius and Julius Thomas, Jordy Nelson and Randall Cobb — nor the stout offensive line clearing the way for Murray. (San Diego has lost three centers to injury, including stalwart Nick Hardwick.) The Chargers' top receivers are Eddie Royal; oft-injured Malcolm Floyd; Keenan Allen, who has regressed from last year, and 34-year-old tight end Antonio Gates.
None of Rivers' offensive teammates made the Pro Bowl last year.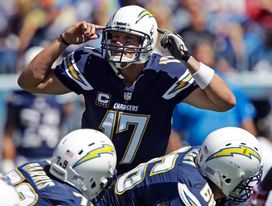 Since Mike McCoy took over as the head coach in San Diego in 2013, Rivers has completed an astounding 69.1 percent of his passes.
But he does have great pocket presence and is difficult to sack because of his quick release. Just ask Broncos pass rusher DeMarcus Ware, who wore a microphone during Denver's 35-21 defeat of San Diego and could repeatedly be heard venting his frustration in trying to bring down Rivers.
Though that AFC West contest was far from Rivers' best game of the season — one in which he's on pace for 40 touchdowns, 10 interceptions and 4,426 yards — he made several passes with stunning precision.
Less than two minutes into the second quarter, he perfectly placed a back shoulder pass to Floyd for 16 yards. On a 3rd and 20 on the next possession, Rivers stepped up in the pocket and completed a 31-yard pass to Gates and then hit Allen for a touchdown one play later.
"Oh my gosh, the last two seasons he's been as accurate as anybody in the NFL," said Sutton, who faced Rivers in Week 7. "The guy can make any throw."
During the Week 8 road loss to the Broncos, the Sports Authority Field scoreboard repeatedly showed Rivers on the sideline — which Manning later called disrespectful — and it elicited boos.
That's the typical reaction to Rivers — perhaps a result of his animated reactions to questionable calls and adverse situations.
He vociferously complains to refs. He regularly talks trash to opponents. During the 2010 raucous season opener in monsoon-like conditions at Arrowhead Stadium, a delay-of-game penalty caused him to lose his composure and kick a football in disgust.
His seemingly bratty on-field behavior belies many of his positive attributes.
Rivers is a football junkie. He played for his father, Steve, the football coach at Decatur (Ala.) High and then at nearby Athens High. The water boy at Decatur games as a child, Philip used the school's pylons and chalk for his own backyard games.
A five-time bowl MVP, including the Senior Bowl, he was always around football. Rivers even believes his side-arm delivery is a result of his frequently tossing a regulation-sized football when he was a four-year-old who lacked the strength to throw overhand.
Whenever I've interviewed Rivers, who married his high school sweetheart after his freshman season at N.C. State, he gives off a folksy demeanor and is very polite, friendly and respectful.
While Rivers appears kind, his toughness is unquestioned.
Just six days after tearing his ACL, he played every snap in the 2007 AFC Championship Game.
It was one of the gutsiest performances in sports history, and he underwent reconstructive knee surgery three days later.
The Chargers lost that AFC Championship Game, 21-12, to the Patriots. Maybe reaching the Super Bowl — like Eli Manning and Ben Roethlisberger, his brethren from the 2004 draft class — would change fans' perspective.
Early in his career, some of Rivers' most talented Chargers' teams seemed to have a good chance to get there — only to be slowed by sluggish starts. San Diego began 1-3 in 2007, 4-8 in 2008, 2-3 in 2009 and 3-5 in 2010.
"We can't wait until our backs our against the wall," Rivers told CBS Sports.
Perhaps learning that lesson, the Chargers' 2014 season has been a different story as they stormed out of the gate 5-1.
Maybe the narrative on Rivers will change too.
Follow Jeff on Twitter: @JFedotin
Jeff Fedotin has written for Packers.com, Pro Football Weekly, ESPN The Magazine, the Lawrence (Kan.) Journal-World and Rivals.com. After graduating from Northwestern University, he interned for the Buffalo Bills. During his football playing days at Pembroke Hill (Mo.) School, Fedotin was known for his bad knees and even worse blocking.