July 08, 2013 -
Joel Corry
Why Ray Rice should worry about his touches
Ray Rice recently indicated in an NFL Network interview that sharing touches with fellow Ravens running back Bernard Pierce doesn't bother him. Although Rice has publicly adopted a team first attitude, privately, he might be concerned about his touches because of his contract.
Rice signed a five-year, $35 million contract (includes $22 million guaranteed) with the Baltimore Ravens last year as the team's franchise player. His deal contains an additional $5 million in base salary escalators and incentives. Rice has a $4 million escalator that's triggered by him having 1,200 rushing yards and 550 receiving yards in a season when the Ravens rank in the top 10 in total offense during the same season. Rice also has a $1 million incentive with the same requirements. The incentive can be earned one time during the deal. It is available each year until it is earned.
Rice was 57 rushing yards and 72 receiving yards short of hitting the individual component of the escalator/incentive in 2012 while the Ravens ranked 16th in total offense. If Rice had achieved the escalator last year, his 2013 through 2016 base salaries would have each increased by $1 million. He would have also earned the $1 million incentive.
Rice's 2014 and 2015 base salaries escalate by $1,333,333 and his 2016 base salary escalates $1,333,334 by hitting the marks in 2013. His final chance to earn the escalator is in 2014. If the thresholds are met next season, then $2 million is added to his 2015 and 2016 base salaries, which increases the value from $3 million to $5 million.
The individual component of Rice's escalator/incentive is a difficult standard to meet. 1,750 yards from scrimmage (combined rushing and receiving yards) has been reached 14 times by running backs over the last five seasons. Rice's escalator/incentive threshold has been met five of those 14 times. Arian Foster and Rice are the only two running backs to accomplish it.
Rice established himself as the NFL's top dual threat running back with three consecutive seasons (2009-2011) of over 1,200 rushing yards and 550 receiving yards. He had yearly averages of 1,961.67 yards from scrimmage, 1,307.67 rushing yards and 654 receiving yards on 356.3 touches (combined receptions and rushing attempts) during this span. The three year streak was snapped in 2012 when Rice's 318 touches were his fewest since becoming a starter in 2009.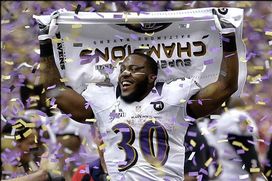 Pierce ran for 202 yards on 39 carries (5.2 YPC) during Baltimore's 4-game postseason run.
Rice may never earn the escalator/incentive because of Pierce and offensive coordinator Jim Caldwell's utilization of the running backs. Despite Rice leading the NFL in yards from scrimmage (7,506 yards) and ranking third in rushing (5,066 yards) since 2009, Pierce is expected to become more of a factor in Baltimore's offense. Pierce adds a different dimension to the offense than Rice as a powerful downhill runner. Baltimore running backs coach Wilbert Montgomery has called Pierce "a poor man's Adrian Peterson."
Pierce's role increased during the second half of the 2012 season and the playoffs. After averaging slightly less than four rushing attempts per game in the first half of the season, Pierce averaged almost 10 carries a game for the remainder of the season. The 2012 third round pick averaged 4.9 yards per carry in the regular season. That number increased to 5.2 yards per attempt in the playoffs.
Rice was essentially a non-factor in the passing game during the playoffs with Jim Caldwell calling plays instead of Cam Cameron, who was fired after Week 14 of the regular season. He only caught eight passes in the playoffs after his 61 receptions during the regular season (second in the NFL among running backs). The 61 receptions were also a season low for Rice as a starter.
The three-time Pro Bowler has called for an increased role in the passing game during the offseason. Rice was the target on 11.1% of Joe Flacco's passes during Baltimore's Super Bowl run. He has been the target on 17.7% of Baltimore's passes since becoming a starter.
Rice's ability to achieve the escalator/incentive could also be hampered by Baltimore's newfound emphasis on running the football. The Ravens ran the ball more than 50% of time in the playoffs. They've run the ball approximately 45% of the time in the regular season over the last four seasons. Rice may need to become one of the primary players filling the void in the passing attack left by Anquan Boldin's departure to offset the potential decrease in pass attempts if the run-pass ratio from the playoffs continues into the regular season.
The team component of Rice's escalator should be less of an issue in Caldwell's offense. The Ravens averaged slightly more than 400 yards per game (regular and postseason) in total offense after Caldwell took over play-calling duties. 400 yards per game has been in the top five in total offense in each of the last five seasons.
It will be interesting to see whether Rice's team first attitude continues with a Super Bowl hangover by the Ravens. Ultimately, Rice must do what he feels is in his best interests since the NFL is a business where loyalty is a myth. The Ravens will develop amnesia about Rice being a team player even if a decrease in productivity is primarily attributed to Pierce's emergence instead of declining skills. Rice could be released or asked to take pay cut in 2015 or 2016 when he is in his late 20s because his cap numbers will be $7.75 million at a minimum with Pierce either heading into a contract year or on the verge of free agency.
Follow me on Twitter: @corryjoel
Joel Corry is a former sports agent who helped found Premier Sports & Entertainment, a sports management firm that represents professional athletes and coaches. Prior to his tenure at Premier, Joel worked for Management Plus Enterprises, which represented Shaquille O'Neal, Hakeem Olajuwon and Ronnie Lott. You can email Joel at jccorry@gmail.com.