January 06, 2015 -
Jeff Fedotin
Why the Bears' future is bleak
Pick your favorite lowlight from the Bears' dysfunctional and disappointing 2014 season:
• They became the first team since the 1923 Rochester Jeffersons to allow 50 or more points in back-to-back weeks.
• They scored a total of 42 first-half points during an eight-week stretch.
• They became a soap opera when offensive coordinator Aaron Kromer leaked the offense's problems with Jay Cutler to NFL Media and then tearfully apologized to the team.
• They attempted a fake punt against the Saints but only had 10 players on the field and in an illegal formation. (New Orleans declined the penalty after the Bears failed to convert.)
Because the 2014 season featured these mistakes and many others, Chicago fired head coach Marc Trestman.
But no matter who replaces Trestman, the Bears may be years away from fielding a quality team.
Of the limited talent on the roster, most are past their prime.
The root of the problem began in the latter years of the defense-centric Lovie Smith era. Realizing the stars of the team's backbone — Brian Urlacher, Lance Briggs, Julius Peppers and Charles Tillman — were aging, the Bears knew their defense would need a complete overhaul.
So they focused on assembling a potent offense that would make them competitive while the defense underwent a total rebuild.
And the centerpiece of that offense would be quarterback Jay Cutler.
The burden of Cutler
Cutler's tenure has proven to be disastrous. He has one playoff win, and that came against a 7-9 Seahawks team.
The highest paid offensive player in the NFL ($22.5 million) this season, he led all quarterbacks in turnovers.
Cutler threw 18 interceptions, including one to Dolphins safety Reshad Jones during Miami's 27-14 victory.
"He was looking where he threw the ball," Jones said. "He was always looking at his receivers and never looking off."
That's a mistake a rookie should make — not someone with nine years of NFL experience. Similarly, he struggled with the basic quarterback task of reading defenses — particularly zone schemes — this year.
After studying film of Chicago, Saints cornerback Keenan Lewis noticed that creating pre-snap confusion was key to stopping the Bears offense.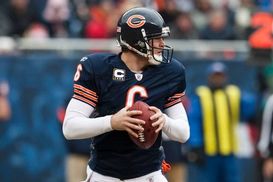 ICONCutler has won just one playoff game in nine seasons.
"Don't tell them what (defense) you're in," Lewis said after his Saints defeated the Bears 31-15 on Monday Night Football. "Make them figure it out at the last minute. There was a lot of success doing that."
It's one thing to be bad and inexpensive. It's catastrophic to be awful and taking up a lot of salary cap space.
Cutler is due $15.5 million in base salary, which would create a $19.5 million cap hit, making it impossible to just release him.
So if the Bears want to get rid of Cutler, they are left with two undesirable options. They can a) either trade him before March, suffer only a $4 million cap hit and receive almost nothing in return because the other team absorbs much of the cost or b) convert the guaranteed base salary into a costly signing bonus to make the contract less onerous for the trading partner and consequently receive a better draft pick.
So even if the Bears move Cutler, his contract may continue to hinder them in 2015.
An overrated offense
The offensive issues go beyond Cutler. There is a misconception that the Bears are loaded with weapons at the skill positions.
Those pieces, however, are flawed. Matt Forte is a great player. During the 2014 season, he set the single-season reception mark (102 catches) for a running back while also surpassing 1,000 rushing yards.
But during next season, he will turn 30, an age when running backs' production often drops off precipitously.
Wide receiver Brandon Marshall will be 31 during the 2015 season and he just endured his worst season — 61 catches, 721 yards — since his rookie year.
Was the drop-off in performance due to a series of injuries? Or is he suffering more injuries because he's getting long in the tooth?
Marshall also has been arrested at least five times. In 2008 the NFL suspended him for violating the league's personal conduct policy; in 2009 the Broncos suspended him for conduct detrimental to the team.
The best organizations like the Packers and Patriots emphasize bringing in the "right 53" and draft for character and intelligence.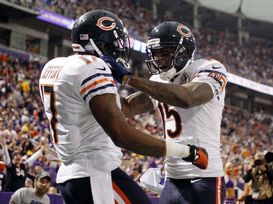 Marshall (right) is coming off his worst professional season since his rookie year.
Meanwhile, the Bears have traded for and signed players like Marshall and tight end Martellus Bennett.
Though athletically gifted, Bennett began the year by being suspended for the preseason opener because of conduct detrimental to the team and capped it in Week 16 by receiving an unsportsmanlike conduct penalty for mouthing off at a referee. (The latter penalty allowed Detroit to start on its 17-yard-line instead of being backed up at its end zone.)
The defense is even more of a mess.
The unit, which ranked 30th in the league in 2014, lacks players around whom you want to build. Chicago needs upgrades at each level of defense — defensive line, linebacker and secondary.
The Bears made three major free-agent defensive acquisitions for 2014. One was defensive end Jared Allen, who turns 33 in April, and his best days are behind him.
The two others suffered career-threatening injuries. Defensive lineman Lamarr Houston tore his ACL while doing a discount-double-check sack celebration. In Week 16 defensive end Willie Young — the only player on the team with double-digit sacks — tore his Achilles, an injury that likely will sideline him well into next season.
Reasons for optimism
One positive on the defense is Kyle Fuller. Though the cornerback regressed as the season wore on, the Bears felt so confident in the rookie that they left him in single coverage against some of the game's best receivers, including Calvin Johnson.
Fuller is one of the bright spots. Another is Alshon Jeffery. Just 24, the 6-3, 216-pound target with good hands was drafted two years before Fuller and already has two 1,000-yard receiving seasons to his credit.
The year after Jeffery, the Bears drafted Kyle Long, who has made back-to-back Pro Bowls at right guard. Matt Slauson, the left guard, is a mauler, though he suffered a season-ending torn pectoral muscle in late October.
Also providing some hope for the Bears is the fact that teams in the NFL can accomplish swift turnarounds.
The NFC East has had four different division winners during the last four seasons, demonstrating the topsy-turvy nature of the NFL and how quickly a team can go from woeful to playoff bound.
The Bears will test that theory.
Follow Jeff on Twitter: @JFedotin
Jeff Fedotin has written for Packers.com, Pro Football Weekly, ESPN The Magazine, the Lawrence (Kan.) Journal-World and Rivals.com. After graduating from Northwestern University, he interned for the Buffalo Bills. During his football playing days at Pembroke Hill (Mo.) School, Fedotin was known for his bad knees and even worse blocking.