December 09, 2014 -
Jeff Fedotin
Why the Broncos offense has become even more potent
Denver set an NFL record for touchdowns (76) and points scored (606), and Peyton Manning established passing yardage (5,447) and touchdown (55) marks last year.
The 2014 version may not have those gaudy stats, but is this year's offense even better?
"Yeah," Chiefs defensive coordinator Bob Sutton told NFP, "I think it is."
That's a scary thought — and a somewhat surprising one, considering Denver's offseason moves focused on the defensive side with the additions of cornerback Aqib Talib, safety T.J. Ward and defensive end DeMarcus Ware.
But this year's offense — despite losing wide receiver Eric Decker, a 6-3, 214-pound target, to the Jets as a free agent — may be more versatile and balanced.
The Broncos replaced Decker with Steelers wideout Emmanuel Sanders, who has just one fewer catch and 80 fewer yards through 13 games than Decker had during all of last season, which was the best of Decker's career.
Though Sanders may not have Decker's size, his superior speed has given the Broncos another outside threat opposite Demaryius Thomas to further stress a defense.
Sanders, whose catch radius belies his 5-11 frame, has quickly built a rapport with Manning.
"Peyton has a lot of trust in him," Sutton said. "He's running great routes and knows how to get open and, of course, he has that great speed."
Reinvigorated ground game
With Sanders in the mix, the Broncos offense hummed along until a Week 11, 22-7 loss to the Rams when Denver lacked balance, throwing the ball 54 times and rushing it just 10 times.
"It was a wake-up call," Broncos head coach John Fox said. "Our team realized it, and we adjusted and responded."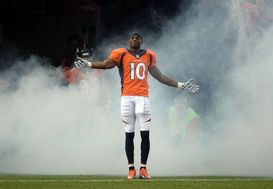 Sanders is on pace to shatter all of former Bronco Eric Decker's marks from 2013.
The next week the Broncos began dedicating themselves to the running game during a 39-36 victory against the Dolphins. After halftime Denver ran on nine of its first 12 plays, and C.J. Anderson, who had 167 rushing yards on the day, touched the ball on eight of them.
Anderson, an undrafted, second-year back, stepped up when injuries sidelined running backs Ronnie Hillman (foot) and Montee Ball (groin). Denver had already lost its leading rusher from last year, Knowshon Moreno, when he signed with Miami as a free agent.
While Anderson, a burly, 5-8, 224-pounder, has allowed Denver to emphasize the run, he is also a weapon in the passing game with 204 receiving yards in his last five games.
"He's been doing a good job in all phases," Sutton said. "He's not just a runner. He's a good protection guy. He's a stout guy."
Against Sutton's Kansas City defense, Anderson rushed 32 times for 168 yards and caught a 15-yard touchdown.
"C.J. was a workhorse tonight. He was really special," Manning said after the 29-16 road victory over the Chiefs. "The offensive line was awesome."
Outstanding O-line
That line is a stronger and deeper unit than last year's. One major reason is the return of left tackle Ryan Clady, one of the best in the game at one of the most important positions. He missed all but two games last season because of a Lisfranc injury.
His presence has allowed Orlando Franklin to move inside to left guard.
Denver reshuffled the line further against Oakland — also the first game Anderson received double-digit carries — inserting Will Montgomery at center, enabling Manny Ramirez to play his more natural position at right guard instead of center.
The Broncos even went in true road grading mode versus the Chiefs, putting an extra tackle, Paul Cornick, at tight end to create a jumbo look.
"You've got to give it to the big fellas up front," Anderson said. "We are proving to everybody on the outside that we can run the ball."
Though Anderson is a beneficiary, he also deserves much of the credit. Part of the lineage of former Cal backs tearing up the NFL — including Justin Forsett of the Ravens and Marshawn Lynch of the Seahawks — Anderson has 716 total yards and six touchdowns in his last five games.
During the first game of that stretch, he took a routine checkdown on 3rd-and-8 for a 51-yard touchdown, making a quick cut after busting through three Raiders defenders, which displayed his knack for breaking tackles.
"It's just being that tough, nasty running back," Anderson said. "It's always been in my arsenal."
Anderson's emergence puts less pressure on Manning and should make Denver a formidable foe during cold-weather January playoff games and a favorite to reach the Super Bowl.
The running back who started the year as the No. 3 guy on the depth chart is obviously having his best season — as is Sanders, who already has set career highs with 86 receptions, 1,208 yards and seven touchdowns.
Broncos cornerback Chris Harris said the speedy fifth year receiver has improved drastically since his days in Pittsburgh because of his better understanding of the game.
"Also he's playing with Peyton Manning," Harris said. "That will always help you."
Follow Jeff on Twitter: @JFedotin
Jeff Fedotin has written for Packers.com, Pro Football Weekly, ESPN The Magazine, the Lawrence (Kan.) Journal-World and Rivals.com. After graduating from Northwestern University, he interned for the Buffalo Bills. During his football playing days at Pembroke Hill (Mo.) School, Fedotin was known for his bad knees and even worse blocking.