August 11, 2014 -
Jeff Fedotin
Why the Patriots and Broncos will rule the AFC (again)
The Broncos held a press conference on March 12, announcing the signing of the Cowboys' all-time sack leader, DeMarcus Ware.
"We're a team this year to be reckoned with," Ware said. "We're trying to make a statement."
That statement reverberated league-wide. The best team in the AFC, which went 13-3 in 2013 and set an NFL-record for points, had just become markedly better after adding not only Ware, but also safety T.J. Ward and cornerback Aqib Talib.
One would think that the signing of the Patriots' shutdown cornerback would weaken New England. The reigning AFC East champs, however, actually improved its secondary over the offseason, signing Darrelle Revis, one of the few cornerbacks who might even be better than Talib, and Brandon Browner.
The 2014 offseason shaped up like an arms race between the previous season's top two AFC teams who faced off in the last AFC Championship Game, a 26-16 Broncos win that was the 15th rendition of the Tom Brady-Peyton Manning Bowl.
No. 16 will come on Nov. 2, and No. 17 should occur in this year's AFC Championship Game — with a Super Bowl berth on the line.
Broncos bolster D
For all of the Broncos' success last year, the Super Bowl runner-up still had defensive issues, ranking 27th against the pass.
Although that statistic could be a bit skewed — because Denver's potent offense put up so many points that it forced offenses to abandon their run games early in a desperate attempt to catch up — the Broncos defense had fallen off a bit.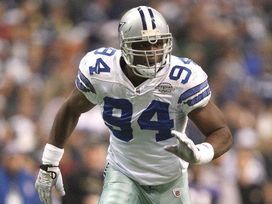 Ware brings depth and a serious sack resume to the Denver pass rush.
A defense that finished first in sacks in the NFL in 2012 had fallen to middle of the pack in 2013. Some of that should improve naturally.
After serving a six-game drug suspension in 2013 and then tearing his ACL in the second to last game of the regular season, pass rusher Von Miller returns. Third-year defensive lineman Derek Wolfe, who had six sacks during a promising rookie season, struggled through a neck injury, seizure and subsequent depression during 2013. He is now healthy.
Further help should come from Ware. The seven-time Pro Bowler has 117 career sacks but suffered through the worst season of his career, recording just six sacks in 2013.
Part of the drop-off may have been due to age or the Cowboys' new scheme, but the 32-year-old, who has raved about playing with Miller, attributes the down year to an elbow injury, which required offseason surgery.
The injury made it difficult to disengage from offensive linemen, and he said that's a reason his production tailed off after having four sacks through the first four games.
"It started to get a little worse," Ware said. "It was pretty painful."
In addition to bolstering the pass rush, the Broncos have improved their secondary, signing Ward, a hard-hitting 2013 Pro Bowler. Denver fans are familiar with their problems on the back end, most notoriously demonstrated by the coverage breakdown against the Ravens in the playoffs two years ago when wide receiver Jacoby Jones scored the game-tying, 70-yard touchdown.
A physical and elite cornerback, Talib also should provide an upgrade over Dominique Rodgers-Cromartie.
The 6-1, 205-pound Talib covered Jimmy Graham one-on-one almost exclusively during an October game, remarkably holding the transcendent Saints tight end without a catch (the only time he went without a reception all season). Other NFL teams had unsuccessfully rotated defenders, mixed coverages, employed double teams and used everything from linebackers to safeties to try and limit Graham.
How the Pats bettered their roster
The Patriots have replaced Talib with the player who was the best cornerback in football before an ACL injury ended his 2012 season. Last year in his lone season with the Buccaneers, Revis played a lot of zone. Look for the Patriots to use him in more aggressive man coverage — Revis' specialty — now that he's two years removed from the knee injury.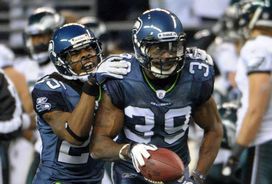 Revis was the marquee signing, but the addition of Browner brings some big-time size to the New England secondary.
Though Browner will miss four games due to a drug suspension, the former Seahawk is the game's biggest cornerback at 6-4, 221 pounds, and he uses that frame to excel as a man defender, likely giving New England the most aggressive set of cornerbacks east of Seattle.
With those defensive back additions, plus the return of defensive tackle Vince Wilfork, linebacker Jerod Mayo and defensive lineman Tommy Kelly — who combined to miss 33 games because of their season-ending injuries in 2013 — the Patriots might have their best defense since their back-to-back Super Bowl squads of 2003 and 2004.
At the very least, it should be an improved unit over the one that ranked 26th in the league overall and 26th on third-down conversions, allowing 42.2 percent.
The Patriots should be better offensively as well. They return right tackle Sebastian Vollmer, who missed half the season with a broken leg, and one of Brady's best weapons, tight end Rob Gronkowski, who missed nine games because of back surgery and a season-ending torn ACL.
With Gronk back, along with the signing of wide receiver Brandon LaFell, who has surpassed 600 receiving yards in each of his last three years, Brady should have more capable receiving targets, an area which was deficient last season and helped account for the quarterback's lowest completion percentage since 2003.
From its receiving corps, Denver lost Eric Decker, but the Broncos replaced him with Emmanuel Sanders, an impressive get, especially considering the team already had Demaryius Thomas, Julius Thomas and Wes Welker in the fold as weapons for Manning.
But the real boon for the offense could come with the return of left tackle Ryan Clady, one of the best in the game at one of the most important positions. He missed all but two games last year because of a Lisfranc injury.
It's amazing that the Broncos scored 606 points last year despite lacking their elite blind-side tackle, and Clady's presence allows Orlando Franklin to move inside to left guard and Chris Clark from left to right tackle.
The Broncos likely will need those O-line fortifications to counter the Patriots' revamped D as the two heavyweights jostle for AFC supremacy once again.
Follow Jeff on Twitter: @JFedotin
Jeff Fedotin has written for Packers.com, Pro Football Weekly, ESPN The Magazine, the Lawrence (Kan.) Journal-World and Rivals.com. After graduating from Northwestern University, he interned for the Buffalo Bills. During his football playing days at Pembroke Hill (Mo.) School, Fedotin was known for his bad knees and even worse blocking.