February 20, 2012 -
Joel Corry
Why Victor Cruz won't get a huge payday
As Matt Bowen recently pointed out, Victor Cruz's performance in 2011 warrants a new deal.
However, the odds are against the Giants wideout getting a new contract anytime soon. With the type of season Cruz had, he would probably command over $8 million per year in the open market on a deal similar to the ones signed by Sidney Rice ($41 million, 5 years, $18.5 million guaranteed) and Santonio Holmes ($45 million, 5 years, $24.25 million guaranteed).
Unfortunately for Cruz, timing is everything and he has poor timing.
Reworking Cruz's contract isn't a huge priority for the New York Giants right now. The team is more concerned with getting under the salary cap and free agency. With the cap expected to remain relatively flat, the Giants have $129,105,807 committed towards next season's cap. They need to re-structure several contracts or release players to get under the cap by March 13th, the start of the 2012 League Year.
Compounding matters is that twenty-four players are headed for free agency, including several key contributors like Jake Ballard, Mario Manningham, Aaron Ross and Steve Weatherford.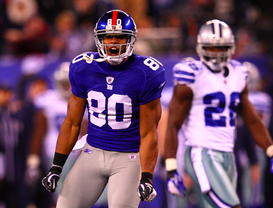 A monster season from Cruz probably won't be enough to land a new contract by next season.
Cruz only having two accrued seasons (years of service towards free agency) is another major obstacle to him getting a new contract. Since Jerry Reese took over as general manager in 2007, the Giants haven't given a lucrative contract extension to any players with two years of service or less. Typically, NFL teams don't renegotiate contracts for players who have only completed two NFL seasons. Chris Johnson's case demonstrates just how difficult it is.
After rushing for over 2,000 yards and setting the single season record for yards from scrimmage with 2,509 total yards in 2009, Johnson wanted a new deal from the Tennessee Titans. He boycotted minicamp and the off-season workouts but accepted a $1.25 million increase of his 2010 salary and $235,000 in incentives shortly before training camp started. The $1.25 million he received wasn't additional money. It came from his 2012 salary, the final year of his five-year rookie deal, which was reduced by a corresponding amount.
The Jacksonville Jaguars were the only team that gave a lucrative contract to a two-year player in 2011. Wide receiver Mike Thomas received a three-year contract extension averaging $5 million per year (with $8.85 million guaranteed). A primary reason why NFL teams are extremely reluctant to renegotiate contracts for two year players is that they are concerned with the type of precedent it would set. Teams are afraid that it would open the floodgates for players routinely seeking new deals early in their contracts or tenure in the NFL.
The Giants have all of the leverage with Cruz. In addition to being under contract for another season, the Giants control his rights when his contract expires. Cruz will become a restricted free agent after the 2012 season. They'll be able to tender him a one-year contract which will give them one of the following options:
1. A right to match offers from other teams
2. A second round pick from the signing club if he signs an offer sheet that they don't match
3. A first round pick from the signing club on an unmatched offer
Considering that Cruz is an undrafted free agent who has been highly productive, they'll likely give him a tender (projected to be $2.8-$3 million in 2013) as a restricted free agent where they would get a first round pick from any club that signs him.
Knowing that they can have Cruz for the next two seasons well below his market value (approximately $3.3-$3.5 million between his 2012 base salary and expected 2013 restricted free agent tender), the only type of deal the Giants would be willing to do is one where Cruz gives up multiple unrestricted free agent years at a discounted rate. In the short term, Cruz would be happy with this new contract but would quickly become disgruntled if he continued to perform at an elite level and salaries in the wide receiver market increased.
That's what happened with Anquan Boldin.
He pushed for a new deal after two seasons because he thought he had outperformed his rookie contract. As a rookie, Boldin was named Offensive Rookie of Year, selected to the Pro Bowl and totaled over 100 receptions. The Arizona Cardinals signed him to a four-year contract extension averaging $5.665 million (with $10 million guaranteed) before the start of his third year in 2004.
After Boldin signed his deal, he continued to perform at a Pro Bowl level. Once Larry Fitzgerald signed his four-year, $40 million contract extension in 2008, Boldin wanted a new deal even though he had just completed the first new year in his contract extension. He skipped a mandatory minicamp and the off-season voluntary workouts in protest claiming that the Cardinals reneged on a promise to renegotiate his contract again. Boldin's unhappiness with his contract was a distraction to the Cardinals until they traded him to the Baltimore Ravens in 2010 before the final year of his contract.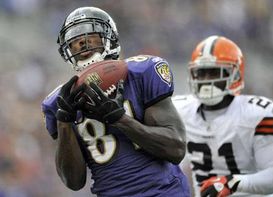 Anquan Boldin was shipped to Baltimore after years of contract disputes with the Arizona Cardinals.
Arian Foster handled his situation much differently than Boldin. Like Cruz, Foster was an undrafted free agent who had a breakout season as a second year player in 2010, his first season as a starter, while making the league minimum salary. Just as Cruz, Foster received All-Pro honors and even led the NFL in rushing. After his breakout season, Foster didn't insist on a new contract. Instead, the former Tennessee Volunteer followed up his great 2010 campaign with another banner season. As a result, Houston Texans owner Bob McNair has indicated that Foster is a high priority for a long term deal as he heads into restricted free agency.
Holding out isn't a realistic option for Cruz either. Under the collective bargaining agreement, the Giants could fine him $30,000 for each day he misses training camp. After eighteen missed days, he would incur fines equal to his $540,000 base salary of next season (his salary is $50,000 more than what's stated in his contract because of the increase in the league minimums).
If Cruz is really that unhappy with his contract, his best bet is trying to convince the Giants to give him a "band aid" through incentives. Any incentive based on what Cruz or the Giants achieved statistically during the 2011 season would count towards the cap (called "likely to be earned") while anything that wasn't achieved in 2011 wouldn't count against the cap (called "not likely to be earned").
The Giants have included these not likely to earned incentives (NLTBEs) in several contracts in recent years. For example, Brandon Jacobs and Mathias Kiwanuka had $2 million in NTLBEs in their 2011 contracts. Jacobs' incentives were based on rushing yards, yards per carry, touchdowns and leading the team in rushing while Kiwanuka's were based on playtime and sacks.
The challenge with incentives for Cruz is that his thresholds for NLTBEs is extremely high (greater than 82 catches, 1,536 receiving yards, n ine touchdown receptions, 18.7 yards per catch, 69.49% playtime, etc) because he performed so well. However, the thresholds can be lowered to something more achievable as NLTBEs if individual statistics or team statistics are coupled with playtime or each other.
Barring injury, Cruz will be better off in the long run by remaining patient about a new contract. With a good start to the 2012 season, the Giants might approach him about a contract extension since he would be nearing restricted free agency while demonstrating that 2011 wasn't a fluke.
This contract would be more reflective of his market value than anything the Giants might do for him now.
Joel Corry is a former sports agent who helped found Premier Sports & Entertainment, a sports management firm that represents professional athletes and coaches. Prior to his tenure at Premier, Joel worked for Management Plus Enterprises, which represented Shaquille O'Neal, Hakeem Olajuwon and Ronnie Lott. You can email Joel at jccorry@gmail.com