August 19, 2013 -
Jeff Fedotin
Will Belichick's heist pay off?
At first the move appeared curious — perhaps a bit vindictive. Then it seemed like pure genius.
When the Giants tried to stash injured TE Jake Ballard on waivers to preserve a roster spot last year, the Patriots signed the player away from their Super Bowl nemesis despite having one of the best sets of tight ends in football.
Like any shrewd talent evaluator, coach Bill Belichick knows you can never stockpile enough depth.
Fast forward a year. With Rob Gronkowski sidelined by forearm and back injuries and Aaron Hernandez charged with murder, it looked like the Patriots cleverly had found a tight end who could pick up some of the slack.
Moreover, the Patriots must not only replace Gronkowski and Hernandez, but also WR Wes Welker, WR Brandon Lloyd, and RB Danny Woodhead — the team's top five receiving targets from last season who accounted for 84.1 percent of the team's receptions, 82.3 percent of the receiving yards and 85.3 percent of the TD receptions.
But the question remains whether Ballard, who declined an interview request from NFP, can help fill that void.
Ballard is competing with Daniel Fells, Michael Hoomanawanui and undrafted rookie free agents Evan Landi and Zach Sudfeld at tight end.
Sudfeld started in Week 1 of the preseason. Off the bench in Week 2, he stole any headlines from Ballard, catching a 22-yard touchdown and a two-point conversion. The rookie out of Nevada has been a hot topic at Patriots camp.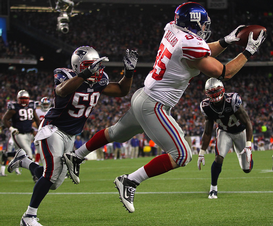 Ballard caught six passes for 77 yards and a touchdown in two games against the Patriots in 2011.
After missing all of the 2012 season because of a knee injury, the 25-year-old Ballard showed up at the 2013 training camp weighing 260 pounds — down from the 278 he weighed in 2011 and perhaps an indication that he would take on a heavy role as receiver.
Ballard returned to action during the Patriots' 31-22 victory against the Eagles in Week 1 of the preseason. He was not targeted for any passes but was on the field for 10 to 12 plays.
"It was good to see him out there," Belichick said. "He did well. He showed up positively on a number of plays."
Despite Belichick's relatively upbeat — especially by his typically less than effusive standards — evaluation, reports have indicated that Ballard does not look 100 percent and is still struggling with his knee.
But Ballard started in Week 2, playing on the first three drives of the Patriots' 25-21 victory against the Buccaneers. Again, he was not thrown a pass.
Though Ballard lacks a reception through two preseason games, the other Patriots tight ends have neither the potential nor the proven NFL success of the 6'6" Ballard.
One year after playing on the practice squad, the undrafted free agent from Ohio State demonstrated soft hands to complement his rugged blocking.
He caught 38 passes for 604 yards during the Giants' Super Bowl-winning campaign in 2011. Ballard also played a key role in ending the Patriots' 20-game regular season home winning streak, making a difficult 28-yard catch on third down with 45 seconds left and then the game-winning TD reception with 15 seconds left to give the Giants a 24-20 victory on Nov. 6.
After catching two passes for 10 yards, Ballard tore his ACL in the Super Bowl XLVI victory against the Patriots. Showing his competitiveness, he tried in vain to re-enter the contest. He tested his leg on the sideline, running in a straight line. But when Ballard stopped and turned to go back the other way, he collapsed in pain, an effort, which Ballard has said worsened the injury.
He would require reconstructive and microfracture surgery.
The Giants figured Ballard likely would miss all of the next season. So with the esoteric rules of the injury list, they had two choices. They could place him on the physically-unable-to-perform list, but that would've meant having an injured player take up a roster spot — or they could waive him, hope he went unclaimed, sign him and then place him on PUP. In that case he would not have counted against the 90-man roster and still have been eligible to play in 2012.
New York went with option No. 2, releasing Ballard in June of 2012. The Giants rolled the dice and lost.
Despite having Gronkowski and Hernandez on the roster, the Patriots, 31st on the waiver wire priority order, stunned NFL insiders by swooping in to sign Ballard one day after the Giants released him.</p>
The jury's still out on whether the Patriots' brazen move will reap any benefits.
"We'll just continue to go along with both (Ballard's) input as to how he's progressing and our medical staff," Belichick said, "to continue to try to let him work his way back to maybe a more extended role than where he's at now hopefully. But that will just have to take some time."
Follow Jeff on Twitter: @JFedotin
Jeff Fedotin has written for Packers.com, Pro Football Weekly, ESPN The Magazine, the Lawrence (Kan.) Journal-World and Rivals.com. After graduating from Northwestern University, he interned for the Buffalo Bills. During his football playing days at Pembroke Hill (Mo.) School, Fedotin was known for his bad knees and even worse blocking.