February 29, 2012 -
Dion Caputi
Will Henne generate interest on the open market?
While the Chad Henne era is by all accounts over in Miami, that isn't going to prevent certain teams from kicking the tires on the former University of Michigan signal-caller.
According to Alex Marvez of FOXSports.com, the 26-year-old has emerged as the hottest potential free agent commodity at the quarterback position not named Matt Flynn or Peyton Manning.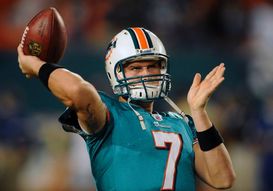 With a lackluster stint in Miami behind him, Henne will look to his next opportunity.
"Henne is drawing the strongest consideration from teams seeking a "1A" option," writes Marvez. "The guy who can push a suspect starter for the job but not command starter's money."
Although the former second-round draft pick is not expected to come at a bargain price, he is perceived to be a better option than journeymen pivots such as Vince Young, David Garrard and Kyle Orton, among others. Marvez also notes that Henne is expected to sign a contract averaging between $4-5 million annually.
Teams mentioned as possibilities to pursue the fifth-year veteran on the open market include the Denver Broncos, Seattle Seahawks, Kansas City Chiefs and New York Jets -- who are believed to have legitimate interest in re-uniting Henne with new offensive coordinator Tony Sparano.
While it's highly unlikely that Henne goes on to set the world ablaze in another city, he can still offer quite a bit to an organization not seeking a completely new face to the quarterback position, like Miami. In today's shrewd business-first league, a legitimate second opportunity to start is not easy to come by. In Henne's case, he will get that second opportunity -- and be paid good money for it.
Follow me on Twitter: @NFLDraftUpdate