September 13, 2012 -
Joel Corry
Will Joe Flacco get paid as a top-five quarterback?
When Joe Linta declared during the offseason that his client, Baltimore Ravens quarterback Joe Flacco, was a top-five quarterback who should be paid accordingly in his new contract, his claim raised eyebrows and was largely dismissed as agent posturing.
Currently, the salary range for top-five quarterbacks is $16 million-$20 million per year (by average yearly salary) where $48 million-$61 million of compensation is in the first three years of the deal with $41.7 million-$60.5 million guaranteed (includes Matthew Stafford and Sam Bradford's rookie contracts). Although Flacco—who makes $6.76 million this season in the final year of his five-year rookie contract—hasn't made much of a case during his four NFL seasons to be mentioned in the same breath as Aaron Rodgers, Tom Brady, Drew Brees and the Manning brothers, his new contract could approach the lower end of such salary levels.
Flacco's best case relates to his won-loss record as a starting QB. Since entering the NFL in 2008, Flacco has gone 45-20 (69.2% winning percentage) in the regular season as a starter. His 45 wins tie him with Drew Brees for the most regular season wins during this span. Flacco is the first quarterback in NFL history to win a playoff game in each of his first four seasons. He has five playoff wins overall and quarterbacked the Ravens to two AFC Championship games.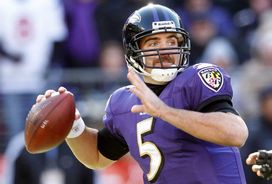 Believe it or not, Joe Flacco could be one of the five highest-paid quarterbacks in the league by the end of the year.
Flacco was also the best quarterback on the field when he outplayed Tom Brady in the Ravens' 23-20 loss to the New England Patriots in last season's AFC title game.
Team record aside, Flacco doesn't compare favorably with some of the other high caliber quarterbacks, such as Philip Rivers and Ben Roethlisberger, but could surpass their contracts since they are somewhat outdated. Rivers has been to four Pro Bowls, thrown for more than 4,000 yards on four occasions, has a 66% career winning percentage (64-33 record) and quarterbacked the San Diego Chargers to an AFC Championship game with a torn ACL. He signed a six-year contract extension with the Chargers in 2009 averaging $15.3 million per year ($46.55 million in the first three years and $38.15 million fully guaranteed).
Roethlisberger is a two-time Pro Bowler with two Super Bowl rings and his 70.2% career winning percentage (80-34 record) is better than Flacco's. His 2008 six-year contract extension with the Pittsburgh Steelers averages $14,664,417 per year ($43.5 million in the first three years and $33.2 million in guarantees). Flacco has never topped 4,000 passing yards or 25 touchdown passes in a season. His career highs of 3,622 and 25 touchdown passes came during the 2010 season.
Flacco hasn't been the driving force behind the Ravens offense, which isn't typically the case with top-five quarterbacks in their respective systems. That honor belongs to Pro Bowl running back Ray Rice. The Ravens were 6-11 during the three previous regular seasons (0-2 in playoff games) when Rice didn't get more than 15 carries in a game.
Rice has conceded that he's no longer the focal point of the offense with the Ravens relying more on the no-huddle offense this year. Instead, Flacco's role has expanded with the Ravens' more pass-friendly offensive scheme. Their offensive success will rest more squarely on his shoulders than in the past. Flacco followed up a strong preseason by capturing AFC Offensive Player of the Week honors for his performance against the Cincinnati Bengals on Monday night. So far, he seems up to the task.
Fortunately for Flacco, his new contract will be primarily dictated by his expected productivity and the Ravens' confidence that he'll live up to his potential, rather than by his previous performance. Rodgers' 2008 five-year contract extension with the Green Bay Packers is a perfect illustration of this principle. In his first year as a starter, the Packers surprisingly made him the fourth-highest paid quarterback (by average yearly salary) when he had one and half years left on his rookie deal. Rodgers' extension averages $12.704 million per year ($42.77 million in the first three new years and $20 million fully guaranteed).
Matt Schaub's new four-year, $62 million contract extension with the Houston Texans signed earlier this week could become an important data point in discussions about Flacco's new deal. Schaub, who was also in a contract year, has $40.15 million in his first three years with $24.75 million fully guaranteed, including a $17.5 million signing bonus. Only $22 million is new guarantees because Schaub lowered his 2012 base salary from $7.15 million to $4.4 million in his new contract. However, Flacco's agent will position Schaub's deal as containing $29.15 million in guarantees because there wasn't a need to guarantee his new $4.4 million 2012 base salary in the contract since it became fully guaranteed through the Collective Bargaining Agreement's termination pay provisions.
Flacco, who is 27-years-old, is four years younger than Schaub. He now plays a more important role in the Ravens' offense than Schaub does with the Texans because their system revolves around wide receiver Andre Johnson and running back Arian Foster. Unlike Flacco, Schaub has never led the Texans to the playoffs. Although the Texans were 7-3 when Schaub suffered a season ending foot injury, rookie fifth-round pick T.J. Yates quarterbacked Houston to their first playoff win in franchise history during last season's playoffs.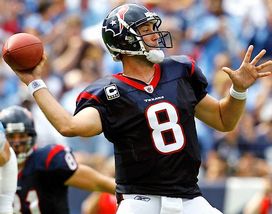 Texans quarterback Matt Schaub cashed in big earlier this week.
In light of Schaub's new deal, it might make sense for the Ravens to start approaching the negotiations from how much it will cost them to utilize franchise tags on Flacco if they haven't already. That's the most likely scenario without a new deal for Flacco since he would clearly be the top quarterback available with Schaub off the market and arguably the most coveted offensive player in 2013 free agency.
Regardless of how well Flacco performs, it's unlikely that the Ravens would place the exclusive franchise tag on him as the New Orleans Saints did with Brees because it would be too cost prohibitive. The exclusive franchise tag, which would prohibit Flacco from negotiating with other teams, is projected to preliminarily jump from $16.371 million this year to $20.513 million next year. Since it will based on the average of the top-five quarterback salaries (i.e.; salary cap numbers) in 2013 once the restricted free agent signing period has ended, it could be lower if quarterbacks (Stafford, Roethlisberger, Brady, etc.) with the highest 2013 cap numbers restructure their 2013 contracts to create cap room for their clubs.
The non-exclusive franchise number, which is calculated over a five-year period that's tied to a percentage of the overall salary cap, can't be determined until the 2013 cap is set. It is $14.436 million this year, which equates to 11.97% of the cap. Since this quarterback franchise number is expected to be at 12.013% of the cap next year while the cap is projected to remain relatively flat, it will increase minimally for 2013.
Assuming the cap is set at $121 million, Flacco's 2013 non-exclusive franchise number will be $14.536 million. If the Ravens applied a second franchise tag to Flacco, his franchise number in 2014 would be $17.443 million, a 20% increase over his 2013 franchise number. With Flacco's 2015 franchise number being 144% of his 2014 one, the Ravens probably wouldn't franchise him for a third time at $25.118 million. Given that the Ravens would be required to pay Flacco approximately $32 million over the next two years as a franchise player, depending on where the 2013 cap finally comes in, they shouldn't have a problem guaranteeing him at least $32 million in his new deal. These franchise numbers could also be used as a guide for his contract average and first three years of compensation.
The average of Flacco's franchise numbers for the next two seasons also approximate the average yearly salary ($16 million per year) and guarantees ($32.5 million) in the contract Michael Vick signed with the Philadelphia Eagles last year. His five-year, $80 million deal ($48 million in the first three years) contained a sixth year at $20 million that voided because Vick's playtime exceeded 35% last year. Vick's deal also has $3 million in salary escalators based on NFC Championships and Super Bowl victories.
The Ravens are approximately just $2 million under the cap, but that wouldn't be a deterrent to extending Flacco's contract. His $8 million 2012 cap number could remain unchanged or provide them with some cap relief depending on how his deal is structured. Flacco's $6.76 million base salary is large enough for him to essentially create his own cap room by converting some portion of his base salary into a signing bonus so it can be prorated over the life his new contract. Any additional guaranteed money necessary in the deal could be in base salary guarantees in subsequent years or through a 2013 option bonus (with a non-exercise fee at the same amount).
Linta indicated that Flacco isn't anxious about signing a contract extension. Barring a career threatening injury, which did happen to Brees as the Chargers' franchise player in 2005, or Flacco regressing considerably during this season, he shouldn't drop below the Schaub neighborhood on his new contract. If he can consistently perform near his Week 1 level during the early part of the season where he's demonstrating that he's having a breakout year, the Ravens will want to re-open negotiations sooner rather than later. At this point, Linta would have more ammunition to support his position that Flacco should be paid as a top-five quarterback and would attempt to leverage Flacco's career year into a much better contract than they were willing to consider before talks stopped when training camp opened.
Follow me on Twitter: @corryjoel
Joel Corry is a former sports agent who helped found Premier Sports & Entertainment, a sports management firm that represents professional athletes and coaches. Prior to his tenure at Premier, Joel worked for Management Plus Enterprises, which represented Shaquille O'Neal, Hakeem Olajuwon and Ronnie Lott You can email Joel at jccorry@gmail.com.