November 20, 2014 -
Joel Corry
Will there be first ballot Hall of Famers in 2015?
The Pro Football Hall of Fame Selection Committee, which is comprised of 46 media members that cover the NFL, cut the list of 113 modern era nominees to 26 semi-finalists on Tuesday. The modern era list will be reduced to 15 nominees on January 8. The final nominees will consist of the 15 modern era finalists, the two Contributor candidates Bill Polian (Buffalo Bills/Carolina Panthers/Indianapolis Colts general manager) and Ron Wolf (Green Bay Packers/Los Angeles & Oakland Raiders/Tampa Bay Buccaneers), and the Seniors Committee nominee center Mick Tingelhoff (Minnesota Vikings). The 2015 Hall of Fame class will be announced in Phoenix, Arizona on January 31, the day before Super Bowl XLIX. Four to eight inductees, with a maximum of five modern candidates, will make up the 2015 class.
15 first-year eligible candidates were among the initial 113 modern era nominees. Eight of the 15 nominees are semi-finalists, which reflects the strength of the group. Nine first time candidates combined were semi-finalists over the last two years. Here's a look at the eight first-year eligible semi-finalists.
Isaac Bruce (WR)-Los Angeles & St. Louis Rams/San Francisco 49ers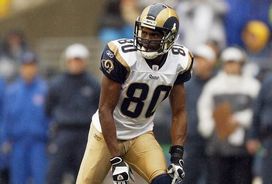 Bruce hauled in 1,024 receptions during his 16-year career.
Bruce was a four-time Pro Bowler and named All-Pro once in 16 NFL seasons. He ranks eighth in NFL history with 1,024 receptions, fourth with 15,208 receiving yards and eleventh with 91 receiving touchdowns. Bruce's 1,781 receiving yards in 1995 are the third-best single season total ever in the NFL. He also led the NFL in receiving yards (1,338) in 1996. Five wide receivers have been first ballot Hall of Famers, with Jerry Rice as the most recent one in 2010. Surprisingly, Marvin Harrison didn't become the sixth last year.
Torry Holt (WR)-Jacksonville Jaguars/St. Louis Rams
Holt was named to seven Pro Bowls and All-Pro twice in 11 NFL seasons. He is a second-team wide receiver on the 2000s All-Decade team. Holt ranks 13th all-time with 920 receptions and 12th with 13,382 receiving yards. He holds the NFL record for most receiving yards in a decade with 12,589 yards during the 2000s. Holt, Marvin Harrison and Calvin Johnson are the only players in NFL history with two seasons of at least 1,600 receiving yards. He led the NFL in receiving yards during his two 1,600 yard seasons.
Holt had 1,635 yards and 1,696 yards, the sixth-best single season mark, in 2000 and 2003, respectively. Although there isn't a limit each year on the number of inductees at a position, Holt faces competition from Tim Brown, a five-time finalist, teammate Isaac Bruce and Harrison, a 2014 finalist. He and Bruce could cancel each other out as the Selection Committee may have a hard time distinguishing between the two during the voting process.
Edgerrin James (RB)-Arizona Cardinals/Indianapolis Colts/Seattle Seahawks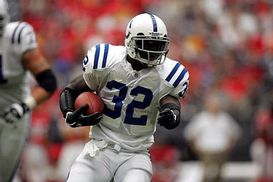 James rushed for 12,246 yards in 11 seasons.
James was elected to four Pro Bowls and named All-Pro three times during his 11-year NFL career. He was named Offensive Rookie of the Year in 1999 after winning the first of his two rushing titles with 1,553 rushing yards. The 2000s All-Decade team member was one of the top dual-threat running backs in the late 1990s/early 2000s. James led the NFL with 2,303 yards from scrimmage in 2000, which is the tenth-best single season total in league history. He is 11th on the all-time rushing list with 12,246 yards. Jerome Bettis surviving the cut from 15 nominees to 10 nominees in each of the last two years will likely factor into James' Hall of Fame bid coming up short in 2015.
Ty Law (CB)-Denver Broncos/Kansas City Chiefs/New England Patriots/New York Jets
Law was a five-time Pro Bowl selection and two-time All-Pro in 15 NFL seasons. He was named second-team All-Decade for the 2000s. Law led the NFL in interceptions twice by picking off nine passes in 1998 and 10 passes in 2005. He intercepted 53 passes (24th all time) for 828 return yards (21st all time) and seven touchdowns (10th all time) in his career. The three-time Super Bowl champion is primarily responsible for the NFL placing a greater emphasis on the five-yard illegal contact rule because of his physical play against the Indianapolis Colts' wide receivers during the 2003 season's AFC Championship game. Law has a similar resume to 2014 Hall of Fame inductee Aeneas Williams, who failed to gain entry in his first four years of eligibility.
Kevin Mawae (C)-New York Jets/Seattle Seahawks/Tennessee Titans
Mawae was selected All-NFL eight times and elected to eight Pro Bowls in his 16-year NFL career. He is the first-team center on the 2000s All-Decade team. Mawae's 238 games started are second-most for centers behind only Seniors Committee nominee Mick Tingelhoff. It's hard envisioning Mawae making the cut to 15 candidates with nine of last year's finalists among the 26 semi-finalists.
Orlando Pace (OT)-Chicago Bears/St. Louis Rams
Pace was named first-team All-NFL five times and a seven-time Pro Bowler in 13 NFL seasons. Pace compares favorably to Jonathan Ogden and Walter Jones, who were selected to the Hall of Fame in 2013 and 2014, respectively, during their first year of eligibility. He is a second-team tackle behind them on the All-Decade team for the 2000s. Recent selection trends favor offensive linemen. An offensive lineman has been elected to the Hall of Fame in eight of the last nine years. Pace's stiffest offensive line competition comes from 3-time finalist Will Shields.
Junior Seau (LB)-Miami Dolphins/New England Patriots/San Diego Chargers
Seau received All-NFL honors ten times and was a 12-time Pro Bowl selection (all consecutively) in 20 NFL seasons. His 268 games played are second in NFL history among linebackers. Seau doesn't have eye-popping raw numbers with 56.5 sacks and 18 interceptions, but was the pre-eminent sideline-to-sideline linebacker of his generation. The 1990s All-Decade selection was the driving force behind the San Diego Chargers' Super Bowl XXIX appearance, the only one in franchise history. Seau is the best bet among the semi-finalists to become a first ballot Hall of Famer.
Kurt Warner (QB)-Arizona Cardinals/New York Giants/St. Louis Rams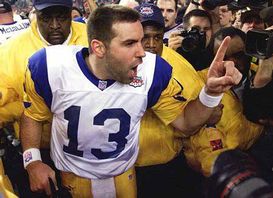 Warner looks to become the first quarterback to enter the Hall of Fame since Troy Aikman and Warren Moon.
Warner was a two-time first-team All-Pro and a four-time Pro Bowler in 12 NFL seasons. He came out obscurity in 1999 after Trent Green tore his ACL in the preseason to guide the Rams to a Super Bowl XXXIV victory and earn Super Bowl MVP honors with a record 414 passing yards to cap off his MVP season. Warner was also regular season MVP in 2001. As the leader of the Greatest Show on Turf, the Rams topped the 500-point mark in three straight seasons (1999-2001), which is the only time the feat has been accomplished by a franchise in the NFL, and set a record for total offense with 7,075 yards in 2000. Warner doesn't have the sustained excellence of other Hall of Fame quarterbacks because of a mid-career slump from 2002 to 2006 where he threw more interceptions (30) than touchdowns passes (27) and had an 8-22 record as a starter. He rebounded by leading the Arizona Cardinals to the franchise's only Super Bowl appearance in Super Bowl XLIII during the latter stages of his career. There hasn't been a quarterback enshrined since 2006 when Troy Aikman and Warren Moon were inducted. History is on Warner's side because every multiple MVP winner has been a first ballot Hall of Famer. If Warner doesn't make it on the first try, he may have to wait until 2017 at the earliest because Brett Favre is eligible for induction in 2016.
Follow me on Twitter: @corryjoel
Joel Corry is a former sports agent who helped found Premier Sports & Entertainment, a sports management firm that represents professional athletes and coaches. Prior to his tenure at Premier, Joel worked for Management Plus Enterprises, which represented Shaquille O'Neal, Hakeem Olajuwon and Ronnie Lott. You can email Joel at jccorry@gmail.com.