April 14, 2014 -
Jeff Fedotin
Woeful drafts lead to Raiders' losing ways
When Nnamdi Asomugha — who retired just after Christmas — left the game, so went the Raiders' last good first-round draft pick (2003).
While passing on the likes of Larry Fitzgerald, Calvin Johnson, Adrian Peterson, Aaron Rodgers, Ben Roethlisberger and Earl Thomas from 2004 to 2012, the Raiders accumulated an awful 49-111 record.
The jury's still out on the first first-round pick of general manager Reggie McKenzie's tenure, D. J. Hayden, a talented but injury-prone cornerback who started just two of the eight contests he played in his rookie year of 2013.
But perhaps when Oakland chooses 5th overall in the 2014 draft on May 8, McKenzie, who learned the tricks of the trade while working with John Schneider, Ted Thompson and Ron Wolf in Green Bay, can reverse the Raiders' history of poor first-round selections.
2004
First-round pick (2nd overall): Offensive lineman Robert Gallery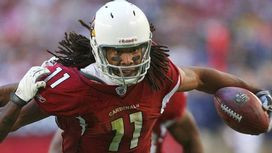 All Larry Fitzgerald has done since entering the league is be named to eight Pro Bowls.
Analysis: After struggling so badly at left tackle that fans derisively chanted "Manda-rich, Manda-rich," Gallery fared better when moved to guard where he started 62 games from 2007 to 2011. However, as a result of the Gallery selection, the Raiders missed out on several stars in one of the better quarterback drafts of all time.
Raiders could have selected: wide receiver Larry Fitzgerald (3rd), quarterback Philip Rivers (4th), cornerback DeAngelo Hall (8th), cornerback Dunta Robinson (10th), quarterback Ben Roethlisberger (11th), linebacker Jonathan Vilma (12th), defensive lineman Vince Wilfork (21st).
2005
First-round pick (23rd overall): Cornerback Fabian Washington
Analysis: Washington wasn't a bad pick. He started 28 games for the Raiders and then 30 for the Ravens, but what makes this choice glaring is who was selected with the very next pick — quarterback Aaron Rodgers.
Could have selected: Rodgers (24th), wide receiver Roddy White (27th), tight end Heath Miller (30th), guard Logan Mankins (32nd).
2006
First-round pick (7th overall): Defensive back Michael Huff
Analysis: Although Huff started 94 games, he was a cornerback-safety tweener. After never finding his niche in Oakland, the Ravens acquired him before releasing him during the middle of last season. No team has signed him for the 2014 campaign.
Could have selected: safety Donte Whitner (8th), quarterback Jay Cutler (11th), defensive lineman Haloti Ngata (12th), linebacker Chad Greenway (17th), linebacker Tamba Hali (20th), cornerback Johnathan Joseph (24th), center Nick Mangold (29th).
2007
First-round pick (1st overall): Quarterback JaMarcus Russell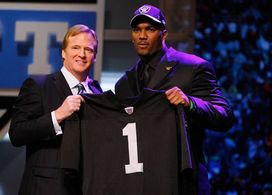 Russell will go down in history as one of the greatest draft busts of all time.
Analysis: Considered the biggest draft bust of all time, Russell completed 52.1 percent of his career passes for a cumulative quarterback rating of 65.2. On and off the field, he was so bad that he has not even received a second chance with another NFL team (unlike busts like Tim Couch or Ryan Leaf).
Could have selected: wide receiver Calvin Johnson (2nd), tackle Joe Thomas (3rd), running back Adrian Peterson (7th), linebacker Patrick Willis (11th), running back Marshawn Lynch (12th).
2008
First-round pick (4th overall): Running back Darren McFadden
Analysis: McFadden is a talented player who has twice averaged more than five yards per carry for a season, but the injury-prone back lacks durability. The former Arkansas star has only played in 26 of his 48 games the last three years.
Could have selected: linebacker Jerod Mayo (10th), tackle Ryan Clady (12th), tackle Branden Albert (15th), cornerback Dominique Rodgers-Cromartie (16th), quarterback Joe Flacco (18th), cornerback Aqib Talib (20th), running back Chris Johnson (24th), tackle Duane Brown (26th).
2009
First-round pick (7th overall): Wide receiver Darrius Heyward-Bey
Analysis: A major reach this high in the draft, Heyward-Bey was a much-maligned pick, but he did post 975 receiving yards in 2011. Signed by the Colts before the 2013 season, the burner is an okay player but is still plagued by poor hands.
Could have selected: defensive lineman B.J. Raji (8th), wide receiver Michael Crabtree (10th), running back Knowshon Moreno (12th), linebacker Brian Orakpo (13th), linebacker Brian Cushing (15th), wide receiver Jeremy Maclin (19th), center Alex Mack (21st), cornerback Vontae Davis (26th), linebacker Clay Matthews (26th), wide receiver Hakeem Nicks (29th).
2010
First-round pick (8th overall): Linebacker Rolando McClain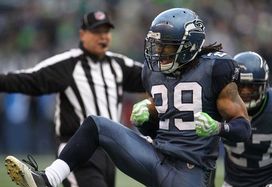 Thomas played a big role in Seattle's 2013 Super Bowl run.
Analysis: McClain's short career featured a litany of injuries and arrests, and he was suspended two games by the Raiders in 2012. After the Ravens signed him in 2013, McClain retired at the age of 23 so that he could get his personal life together.
Could have selected: running back C.J. Spiller (9th), safety Earl Thomas (14th), defensive end Jason Pierre-Paul (15th), wide receiver Demaryius Thomas (22nd), wide receiver Dez Bryant (24th).
2011
First-round pick: None
Analysis: The Raiders did not have a selection after trading a first-round pick in 2011 for Patriots defensive lineman Richard Seymour. During four years in Oakland, Seymour was solid, starting 52 games and recording 18.5 sacks, but the Raiders never posted a winning record during the veteran's tenure.
Meanwhile, the Patriots selected Nate Solder, who has started 31 games at left tackle the last two seasons. Solder could have helped Oakland solidify its offensive line for the next decade.
2012
First-round pick: None
Analysis: The Raiders did not have a selection after trading a first-round pick in 2012 and a second-round pick in 2013 for Carson Palmer.
With the 2012 first-round pick, the Bengals selected Dre Kirkpatrick, a talented cornerback who has battled knee injuries. Cincinnati spent the 2013 second-round pick (37th overall) on running back Giovanni Bernard, one of the NFL's most electrifying rookies last year.
Meanwhile, Palmer threw 30 interceptions and never co mpleted more than 61.1 percent of his passes during his two years in Oakland before the Raiders traded him to Arizona.
Follow Jeff on Twitter: @JFedotin
Jeff Fedotin has written for Packers.com, Pro Football Weekly, ESPN The Magazine, the Lawrence (Kan.) Journal-World and Rivals.com. After graduating from Northwestern University, he interned for the Buffalo Bills. During his football playing days at Pembroke Hill (Mo.) School, Fedotin was known for his bad knees and even worse blocking.