December 20, 2011 -
Matt Bowen
49ers' goal line play action had everyone taking the bait
Click here for the entire Inside the Playbook series.
Let's go back to the Monday night matchup in San Francisco and talk play action on the goal line.
With a 1st and goal situation, the 49ers used boot action to target TE Vernon Davis on the backside 7 (corner) route. Nothing unique until we talk about how Jim Harbaugh's offense was able to sell the run based on personnel and disguising the release of Davis.
Here is a quick breakdown of why the Steelers' took the bait—leaving QB Alex Smith with an easy toss to Davis for the score.
Steelers vs. 49ers
Personnel: "O-Line" Jumbo (6 OL, 2 TE, 2 RB)
Route: 7 (corner)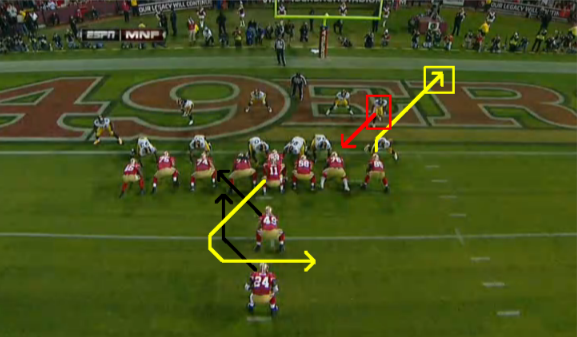 Sell the run: Closed (strong) side Lead action on 1st down. As an offense, you have to sell the fake. Bring an extra offensive lineman into the game and use boot action to force the second level of defenders to step towards the line of scrimmage. That's all it takes on the goal line.
Delayed release: Check out the backside safety (highlighted in red). His job is to read through the open (weak) side TE and into the backfield (cut-back on run). With Davis blocking initially at the line of scrimmage, any safety is going to attack downhill and look to fill on a possible cut-back. Davis sells the block and now has a free release into the end zone. A tough read when you have to make quick decisions as a goal line defender.
Boot action: The No.1 route scheme on the goal line in the NFL out of Jumbo (3 TE, 2 RB) personnel is the Flat-7 combo to both the open and closed side of the formation. However, when you add in the boot action it gives the QB a run-pass option with one primary read (7 route). And if you can get a safety or LB to take false step downhill, this is going to lead to points every time.
Follow me on Twitter:
@MattBowen41