December 16, 2010 -
Matt Bowen
49ers-Chargers: five things to watch for tonight
Let's talk 49ers-Chargers as we head into tonight's kickoff out in San Diego on NFL Network. Five things to watch in a must-win game for both clubs, plus my picks for the entire Week 15 NFL schedule.
1. The Chargers' run game: When you break down Norv Turner's scheme in San Diego you will see the basic two-back downhill concepts: Power O, Lead Open, Lead Strong, etc. That shouldn't change tonight—especially with TE Antonio Gates out of the lineup. Lead with a game plan that is heavy in off-tackle runs and use RBs Mike Tolbert and Ryan Mathews to control the tempo and set up QB Philip Rivers to make some plays down the field. Both backs could see over 15 carries—just like they did in the 31-0 win over K.C. this past Sunday.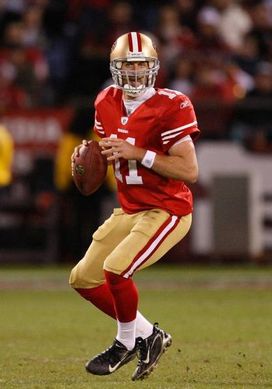 ICONSmith should see some blitz pressure from the Chargers' defense tonight.
2. Alex Smith vs. the San Diego pressure: Niners' QB Alex Smith threw 3 TDs in the win over Seattle on Sunday, but he will face a much more advanced defense in San Diego tonight. I expect Chargers' defensive coordinator Ron Rivera to use multiple pressure looks against the Niners' QB. For Smith, that means identifying pressure, checking to the 3-step hot reads and taking advantage of one-on-one matchups outside of the numbers. There will be plays to be made for the 49ers vs. this Chargers' scheme, but it all comes down to Smith's ability to handle the pressure and adjust at the line of scrimmage. Another opportunity for Smith to sell his abilities to the Niners' front office.
3. Chargers in the red zone: Between Vincent Jackson, Malcolm Floyd (who is questionable) and Legedue Naanee, San Diego has a matchup advanatge vs. the 49ers' secondary in the red zone. All three can become prime targets because of their ability to separate at the line of scrimmage and go up over a DB and get the ball at its highest point. The fade, 7 route (flag) and post all should come into play. Without Gates, look for Rivers to work primarily outside of the numbers inside of the 20-yard line.
4. Vernon Davis: San Fran has to target him tonight. There isn't a safety or a linebacker on this Chargers' defense that can routinely check him at the line of scrimmage. Run the deep 7 route off of play action, the inside vertical seam and align him out of position (as a possible backside X receiver) to draw those matchups that give Davis an opportunity for a big play down the field. I wouldn't be surprised to see the Niners get more creative tonight as an offense and use more spread looks to maximize those matchups with Davis. Remove him from the core of the formation and let him work the middle of the field all night.
5. Playoff atmosphere: Both clubs have to approach this game as a must-win. That is December football in the NFL when you are fighting for a playoff spot. Even though the Niners and the Chargers need some help to get into the post-season tournament, watch the speed of the game tonight—because it will take a step forward. I played in December matchups like this during my career, and everything—from the hitting to the play on special teams—goes up a level. Add the primetime slot under the lights, and we should see a game where players from both clubs sell out on almost every snap. It is worth checking out this game tonight. Should be good football in San Diego.
My Week 15 NFL picks…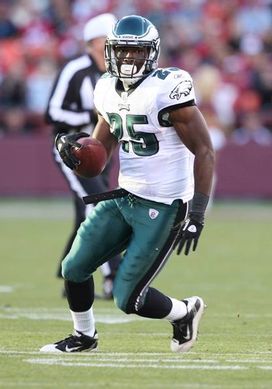 ICONMcCoy and the Eagles travel to New York.
Last week: 12-4
Overall: 99-44
San Diego over San Francisco
New Orleans over Baltimore
Arizona over Carolina
Cincinnati over Cleveland
Dallas over Washington
Jacksonville over Indianapolis
Miami over Buffalo
Philadelphia over N.Y. Giants
Kansas City over St. Louis
Tampa Bay over Detroit
Houston over Tennessee
Atlanta over Seattle
Oakland over Denver
Pittsburgh over N.Y. Jets
New England over Green Bay
Monday Night
Chicago over Minnesota
Follow me on Twitter: MattBowen41