January 18, 2013 -
Matt Bowen
49ers-Falcons: Is Whitner ready for Gonzalez?
Click here to see my All-22 Red Zone breakdown on Gonzalez.
49ers' Safety Donte Whitner is physical and has the lateral ability to play man-coverage vs. the tight end position. A good football player that will also put a helmet on you in the open field. But Whitner has a tough matchup this Sunday vs. Falcons' TE Tony Gonzalez in the NFC Championship game. To give you an example of what Whitner is looking at on the tape, let's break down Gonzalez's TD vs. Seahawks' safety Kam Chancellor last weekend on the goal line.
Seahawks vs. Falcons
Personnel: Jumbo (3TE-2RB)
Route: 7 (corner)
Defensive scheme: GL Man (match)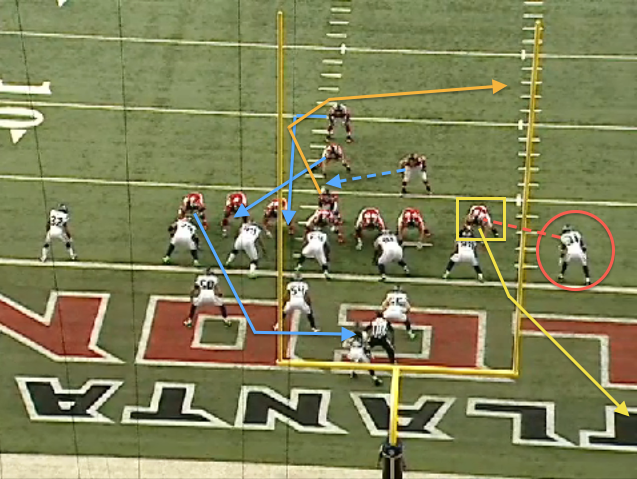 With Gonzalez aligned to the open side of the formation, the Falcons run play pass out of Power I look. Sell the run fake and boot QB Matt Ryan out of the pocket with Gonzalez on the short 7 cut (corner route). For the Seahawks, a base goal line man (or match) scheme. Chancellor is the primary edge support player vs. the run and will take the first vertical (Gonzalez) on action/flow away.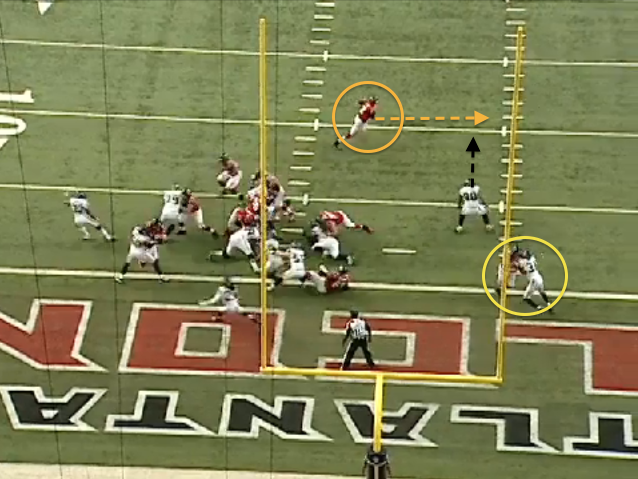 Great use of the hands by Chancellor. The Seahawks' safety extends his arms to keep Gonzalez off his body and maintains the outside leverage position. Chancellor can now play an inside breaking cut or roll with the 7.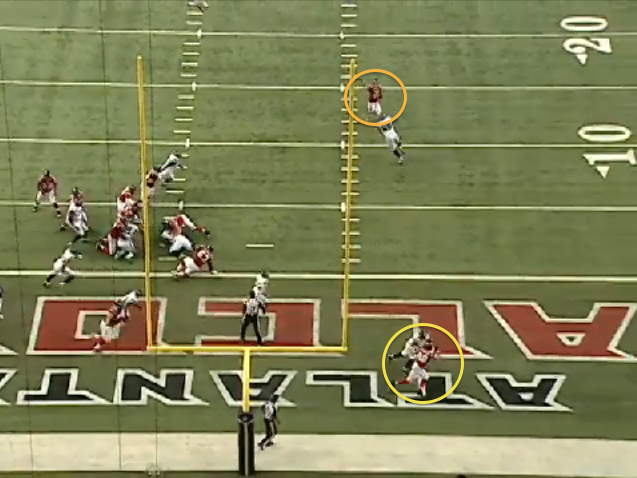 In this situation, the safety in coverage has to play with a "basketball technique" (think of defending the low post on the court with your back to the ball). Use the end line as your help and stay on the hip of the TE. If you can, slide the elbow low on the waist of the TE and push him out of bounds (can't be the first player to touch the ball). And you can get away with that if you don't extend the arms up high on the chest/shoulder.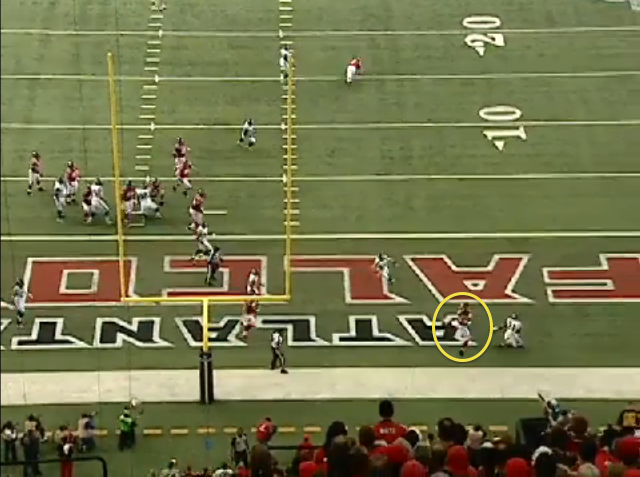 What beats Chancellor? The ball placement from Matt Ryan. This is no different than throwing the back-shoulder fade on the 9 route in the red zone. The safety has coverage and is in the proper position to play Gonzalez on the end line. However, Ryan puts this ball on the back shoulder and the veteran TE does an excellent job of finishing the play. Is Whitner ready to check Gonzalez on Sunday? Let's see how it plays out...