November 24, 2010 -
Matt Bowen
A classic "Turkey Bowl" moment
The "Turkey Bowl." Every family has one in an old park in the neighborhood. Torn up grass, dirty sweatpants and a swing set tucked away in some corner under oily, gray November skies.
For my family, the last Thanksgiving Day classic took place down in Peoria, Illinois back in 1990. I was in eighth grade, weighed in at about 150-pounds and was built like a hockey stick. It was the standard family game: two-hand touch, an all-time QB and a "five-Mississippi" time allotment for the makeshift defensive line filled with cousins and uncles to rush the passer.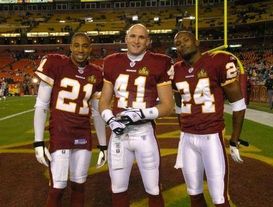 Smoot was a big fan of the "Turkey Bowl" story I would tell every Thanksgiving.
No schemes like we see on Sundays, but good football for a bunch of guys who were wearing sneakers, outside of my older cousin, Andrew Penca, who busted out his black high school cleats. An unfair advantage to have an all-conference running back on the field on that day, but we double-teamed his routes.
Fast forward to the end of the game, which is one of former teammate Fred Smoot's favorite stories.
Protecting a slim lead, with the make-believe clock running out and dinner about to be served back at the house across the street, I lined up at free safety. We needed a play to win and walk back with confidence. My old man, Pat, lined up in the slot. Not many routes you could run from that position with tall, weathered oak tress cutting off the corner and backline of the end zone. Had to be a slant, right? A 3-step slant like we see from Aaron Rodgers and Greg Jennings. Only on that day it was my uncle throwing to my dad, with my cousin Michael (the Big Puma) trying to play some odd form of press-coverage.
I broke on the throw, and not wanting to smash my face right before dinner, I went low on my dad. Shoulder to a knee, ball out, game over. Time to plan celebration parades, and if I wasn't in eighth grade, time to drink beers. But, my dad was slow to his feet and limped back to the house. Cans of Old Style became ice packs on his knee as we sat and watched the Cowboys game.
The final result: a big Thanksgiving win for my squad and MCL surgery for my dad. It was the last Turkey Bowl game in the Bowen-Penca family. Now, replaced by little kids running around and young dads drinking cocktails before dinner.
Happy Thanksgiving…
Check back to the NFP tomorrow morning for my NFL Turkey Day preview.
Follow me on Twitter: MattBowen41
Follow the Puma on Twitter: Big_Puma