July 25, 2011 -
Matt Bowen
A guide for undrafted rookie free agents
If you are an undrafted college free agent, you should be on the phone right now with your agent talking NFL depth charts, coaching staffs, offensive and defensive systems, etc. All should be discussed and presented as you prepare to sign with a team tomorrow morning.
A couple of weeks ago, I wrote about the undrafted free agents, because we will see some of these names (RB Noel Devine, LB Mark Herzlich, LB Jeff Tarpinian, RB Graig Cooper, etc.) end up on opening day rosters. But signing a contract is the first step…and I am going to tell these rookies what to look for before they put pen to paper tomorrow.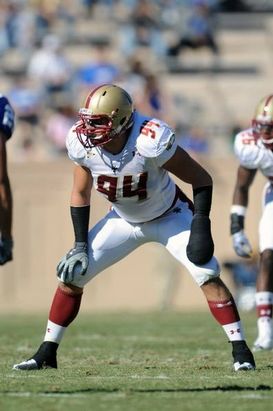 ICONWhere will Boston College LB Mark Herzlich sign tomorrow?
Don't be a "camp body"
Why does this happen? Because the agent places his undrafted rookie in a camp where he has no chance to play. I saw it all of the time during my career. Rookies standing around in practice after individual period, basically in camp for a cup of coffee with the NFL. Maybe they see two or three reps or practice—but that's it. And when you don't get any practice time, you won't make the team.
Examine the depth charts
Is there a drafted player at your position? If so, don't sign with that club, because he will get all of the reps (and all of the second chances). Look for rosters that have veterans on the bubble and who haven't invested money in a rookie draft pick. You need to find a roster that will not only give you reps in practice, but playing time in the preseason. And that is where the real grading process begins for the coaching staff.
Think special teams
Have a shot to go to Chicago, Philly or Washington? Probably a good chance that you will sign a contract to play special teams as rookie for three of the best special teams coaches in the league: Dave Toub, Bobby April and Danny Smith. This is how you are eventually going to make the opening day roster, so look at the coaching staff in the kicking game. Because they will be your biggest fans at cut time.
Forget about the signing bonus
Undrafted rookies will get money to sign a deal tomorrow—but nothing like the cash we are going to see with Cam Newton in Carolina. However, here is a simple rule to follow in the NFL: if you can play, you will eventually get paid. Yes, these first-year players will make the rookie minimum this season, but once they start showing up on NFL Sundays, they will have the chance to sign a big check one day.
I will be talking about veteran cuts tomorrow morning at the NFP… Not a fun experience.
Follow me on Twitter: MattBowen41