March 07, 2012 -
Matt Bowen
A healthy Best and Leshoure in Detroit? That's a complete offense
Looking at the Lions this past season from an offensive perspective, they have multiple playmakers to push the football down the field. Basically, we are talking about a spread offense with Matthew Stafford at QB.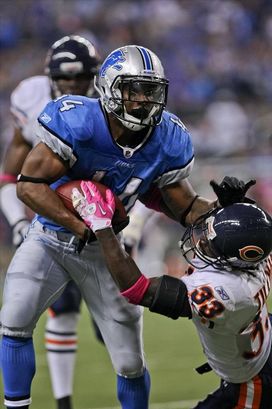 ICONDetroit's Jahvid Best has been cleared to start working out.
We know it starts with Calvin Johnson, the developing talent in Titus Young and targets at the TE position that can beat Cover 2 or cause matchup issues.
Use Posse personnel (3 WR, 1 TE, 1 RB) or get your Ace personnel (2 WR., 2 TE, 1 RB) on the field and align in a 2x2 "Orange" formation (4 WR set). Force the defense to bring their sub package into the huddle and look to test the secondary.
But you still need a running game—plus some balance in the call sheet—to win in situational football.
The Lions have two RBs in Jahvid Best and Mikel Leshoure—but they have to be on the field.
Detroit got some positive news with reports that Best has been cleared to start working out after concussion issues. Plus, the club is also waiting on the return of Leshoure from a torn Achilles tendon he suffered last season during training camp.
Best can run out of the one-back looks, the gun, produce in the inside trap game, etc. And with Leshoure, the Lions will have a back to use in the downhill power schemes, inside of the 10-yard line and during 4-minute situations. A power runner that was drafted in 2011 to move the sticks.
It's still very early in the offseason as we wait for free agency and then the buildup to the NFL Draft. However, if both Best and Leshoure are healthy, this Lions offense becomes much more complete and balanced in the NFC North. And that's tough to game plan against.
Follow me on Twitter: @MattBowen41