May 13, 2011 -
Matt Bowen
A look at Collinsworth's lockout predictions
On Thursday, NBC's Chris Collinsworth posted some predictions for the start of the 2011 NFL regular season over at his website, FootballPros.com. I have seen guesses from members of the media during the lockout that range from the start of August (close to a standard training camp schedule) and others that are talking about a complete wipeout of the entire season.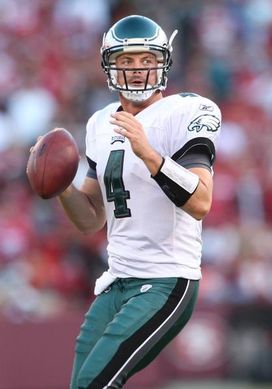 ICONIf Collinsworth is right, it will be a long time until Kevin Kolb finds a new team.
Collinsworth's prediction? Somewhere in the middle, and after checking it out, this might be the best option we will see.
Here's a brief version of how Collinsworth breaks it down:
- Free agency starts around October 1st
- Training camp starts October 5th
- Regular season starts in early November
- Super Bowl is pushed back one week.
Not good, right? Of course not, and I assume all of us are hoping that Collinsworth is somewhat off on his prediction. But after he went through a work stoppage as a player during his career, we should listen to what he has to say here.
This morning I discussed the idea of NFL players missing out on weekly game checks—something I see as an issue. Players mis-manage money like you wouldn't believe in this league and there will be more than a couple guys that are desperately looking for big time loans if the lockout lingers into the regular season.
But the game itself will also take a major hit if we don't have scheduled football till November. Rookies, new coaching staffs and free agents sitting around for months without a team—or a playbook to look at. Not to mention the possible destinations for Kevin Kolb, Donovan McNabb, Carson Palmer. No trades during the lockout.
The point here? If Collinsworth is right, I hope you have a college football team to follow. Because that is where I will be, in Iowa City watching the Hawkeyes, while the NFL tries to figure out this mess.
Follow me on Twitter: MattBowen41