April 27, 2012 -
Matt Bowen
A look at my first round notebook
A rundown of my notes from last night's first round of the NFL Draft….
- Love the move from the Cowboys to trade up and go get Morris Claiborne. We know about the talent with the LSU product, but I'm looking more at scheme and defensive game plan under Rob Ryan. And after picking up Brandon Carr during free agency, the Cowboys now have two CBs in their pressure based scheme that can drive on the ball. Think blitz-man coverage (Cover 0) with CBs that will challenge receivers consistently outside of the numbers.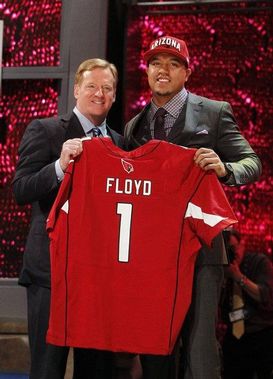 Floyd heads to Arizona to pair up with Larry Fitzgerald.
- It won't be easy to gameplan for the Cardinals offense with both Larry Fitzgerald and first round pick Michael Floyd out of Notre Dame. When you have two receivers with size and look at situational football (3rd downs and red zone) it is tough from a defensive perspective to limit basic route concepts.
- Breaking down Mark Barron, did anyone's stock rise more in the last two weeks? The safety comes off the board at No.7 to Tampa (after they traded back). And I can't wait to see him in the NFC South when he is matched up vs. Saints' TE Jimmy Graham.
- No drama surrounding the selections of QBs Andrew Luck and Robert Griffin III, but if you are a fan in Indy and Washington, this offseason should be positive because of two young talents that will develop early in their careers. Both rookies will take the ball on opening day, and when it comes to RGIII, I can't wait to see how his skills set is utilized in the Redskins' offensive system.
- I was surprised that the Niners drafted Illinois' A.J. Jenkins at No.30. The WR is projected as a vertical player in the NFL, but so is Georgia Tech's Stephen Hill (who is still available). Curious about this one.
- I hosted radio here in Chicago last night on 670 The Score and Bears fans are not feeling the pick of Boise State's Shea McClellin. The Boise State product had been projected as a fit in 3-4 front, but the Bears will stick him at DE in Lovie Smith's scheme. Chicago's plan all along was to find an edge rusher opposite Julius Peppers—even with OT Riley Reiff on the board. The two DEs the Bears passed on at No.19: Chandler Jones and Whitney Mercilus. The right call? I can't tell you that in April, but at 260 pounds with a 4.6 40, Lovie Smith gets the exact style of player he looks for in the Tampa 2 defense.
- If the Jags want to see Blaine Gabbert take a step forward in his development as a second year starter then trading up to get Justin Blackmon is the right move. He was the top WR on the board and I'm thinking about his ability to produce after the catch. Gabbert needs a WR that will go make a play for him.
- The Pats were a hot topic last night because of the investment they made on the defensive side of the ball with Chandler Jones and Dont'a Hightower. They fill immediate needs to improve their front seven. Can't complain about those picks.
- I'm with everyone else on the Steelers landing OG David DeCastro. Great pick and a player that should play a prominent role along that O-Line for a long time in the NFL. If he was listed as a tackle, DeCastro would have been a Top 10 selection.
- Plenty of negative reaction to the Bruce Irvin pick. Remember, this is a talent driven league when it comes to the draft and Irvin has speed off the edge. Is he more than a situational pass rusher in the nickel sub package? Good question, but Seattle sees him as an impact pass rusher.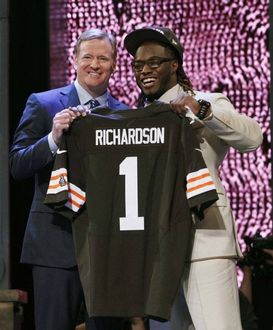 New Browns RB Trent Richardson.
- A RB going No.3 overall? A unique situation, but the talent of Trent Richardson trumps all. Maybe the Browns did panic when they made the trade to move up just one spot. But if this is your guy—then go get him.
- Mixed opinion out there on Alabama's Dre Kirkpatrick, but I think the Bengals picked up a prospect with real talent when they drafted the CB. Size, length and the ability to play press-man. As I've said before, Kirkpatrick is a DB I would want to coach. Plenty to work with there.
- The Lions get a good football player in Riley Reiff out of Iowa. The OT slipped because multiple teams see him as a RT in the league. However, he is well coached and if he develops into a starter on the left side of the line, Detroit just got great value late in round one.
- Nick Perry or Courtney Upshaw? That was the question for the Packers. They went with Perry and get an edge rusher opposite Clay Matthews. Again, trust the team to draft the best player on their board.
- Dontari Poe is one of the prospects that intrigued me leading up to the draft because of the big combine workout paired with the inconsistent tape. Did the Chiefs reach on him? Not if he can control the interior of the D-Line when K.C. looks to get after the QB. Still, an interesting pick from Scott Pioli.
- The Eagles front four is passing situations will cause multiple issues after landing DT Fletcher Cox. Smart call to move up ahead of the Rams and make the pick.
- Safety Harrison Smith is going to be a good pro. He has size, takes solid angles to the ball and has enough range to get off the numbers in Cover 2. Carried a second round grade into the draft, but with the amount of picks the Vikings had to use, the team trades up to get a starter (at a position that needs help).
- QB Brandon Weeden will be given every opportunity to start on day one in Cleveland. But the Browns better find some talent at WR starting tonight.
Stay with the NFP throughout the weekend for more draft coverage
Follow me on Twitter: @MattBowen41