May 31, 2012 -
Matt Bowen
A look at the 'X Spot'
Click here to read the entire Inside the Playbook series.
Click here to see my zone blitz breakdown.
How do you disguise a simple route concept in the NFL? Use some added window dressing (pre-snap movement, splits, personnel) and give the defense a unique look to run a base scheme. Today, we will do that up on the chalkboard by flipping the base "Spot" route (7-curl-flat combo). Bring the backside X receiver across the formation (to take the place of the curl) and run the same route from a different alignment (called the "X Spot").
First, let's take a look at the base "Spot" route from the Bears-Eagles matchup:
Bears vs. Eagles
Personnel: Tank (1 WR, 2 TE, 2 RB)
Route: Spot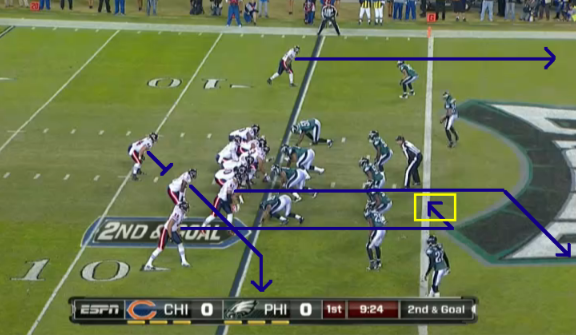 - 7-curl-flat combo with Tank personnel on the field. Align in a "bunch" with the RB, Matt Forte, removed from the core of the formation as the open (weak) side X receiver.
- Run off the top of the coverage with the 7 (corner) route, widen the underneath defender with the quick flat route and target the inside curl. Find a hole in the zone coverage, sit down and catch the ball.
Now, let's check out the "X Spot" drawn up on the chalkboard:
Personnel: Regular (2 WR, 1 TE, 2 RB)
Route: X Spot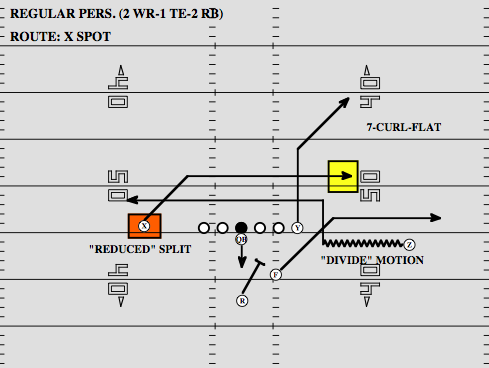 - First thing you have to key on: the split of the X receiver (highlighted in orange). From a defensive perspective, this should tell you to expect an inside breaking route with the "reduced" (or nasty) split.
- Bring the Z receiver in on short, "divide" motion to create a bunch (Z, Y, F) and run the WR across the formation on an inside Hi-Lo combination. The TE (Y) will break to the 7 cut with the FB (F) bursting to the flat out of a "Strong I" alignment.
- With the Z running the underneath crosser to the open side of the formation, we need to replace him in the curl. That's where the X comes in. With that "reduced" split, the X will work back to the closed side of the formation and sit down in the curl.
- By using the X receiver, all we are doing is creating the "Spot" route from a different alignment and personnel grouping. Remember, there is only so much you can do with 11 players on the field, so how you disguise and dress up your routes is key to production.
Follow me on Twitter: @MattBowen41