October 14, 2011 -
Matt Bowen
A 'Player's Only Meeting' in Philly? That's not the answer
I've sat in the classic "Player's Only Meeting" in the NFL for couple of teams. So-called leaders get up, talk about what the team has to do, why the wins aren't coming, etc., etc.
And I always felt like I was back in high school.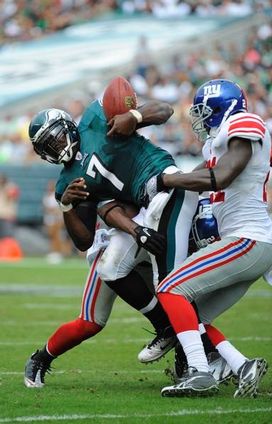 Is a "Player's Only Meeting" the answer for Vick and the 1-4 Eagles?
They don't solve anything, because pro leadership is about production on the field. Not something that is said in a closed door meeting with the coaches tucked away in their offices.
According to reports, the Eagles' players held a meeting this week. I don't blame them, because a 1-4 start will make you panic as a player and as an organization.
Especially in Philly, were expectations (and hype) were spread throughout the league back in early August.
However, I didn't buy the talk back when I played and I don't buy it now—no matter what is leaked from that meeting.
If the Eagles want to change the results on Sundays then play with more discipline, cut down the penalties, tackle in the open field, make some plays in the secondary and stop turning the ball over on offense.
And don't blame the coaches. This is on the veterans in Philadelphia. They need to produce and start to turn this season around.
Maybe the Eagles can go down to Fed Ex Field this Sunday and get a much-needed divisional win vs. the Redskins. And if they do, it will be because the guys in uniform made the proper corrections, played with technique and showed up in crucial situations of the game.
Not because they talked about it this week. That doesn't win football games.
Follow me on Twitter: MattBowen41