January 17, 2011 -
Matt Bowen
A quiet exit for Favre
Goodbye, Brett.
A very quiet "retirement" for Brett Favre as he filed his paperwork to the league office according to reports. No parades, press-conferences or the repeat circus-acts that have taken place since he parted ways with the Packers.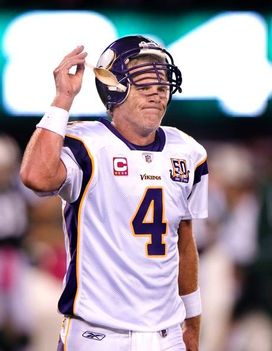 ICONFavre had a rough final season in the NFL.
No, this is simple. Sign your name, check a couple of boxes and inform the league that you are no longer an active member of the NFL. The severance pay will arrive shortly in the mail after the papers are processed and that's it.
I'm sure it wasn't easy for Favre to do this—to make it somewhat "official" this time. But, every player goes through the same feelings when they sign those papers and drop them in the mail. It is awkward to give up football when you wear a jersey with an NFL shield on it. I've been there myself standing in front of the mailbox. Every player knows when it is time, And that old saying, "I know I can still play at this level," is really not true. When you are done, that's it. File those papers are try something new in life.
We all know that was delayed by Favre. The year with the Jets, the big numbers from the '09 season and then 2010: a year to forget. Cell phones, injuries, the end of the consecutive game streak, interceptions, etc.
As a fan—and former teammate—of Favre, I couldn't stand watching him break down this season. It was painful. I wanted to see him win and have success—because every player wants that at the end. However, this entire journey that Favre took since he left the Packers has been odd in a sense. And I am just glad that is over from the perspective of someone who studies the league and as an overall fan. It went too far.
Time for all of us to move on from Favre. What he did on the football field was magical—but this is a bit overdue.
Follow me on Twitter: MattBowen41