November 30, 2012 -
Matt Bowen
A rough night for Brees
Click here for the entire Inside the Playbook series.
There was some sloppy football on both sidelines Thursday night in the Falcons 23-13 win, but when we look at the five interceptions thrown by Drew Brees (plus the time management issues at the end of the first half), this loss has to fall on the Saints' QB. He lacked accuracy, made some poor decisions and missed on opportunities down the field.
An example? Let's run through a quick breakdown of the INT Brees threw to safety William Moore off of the boot action.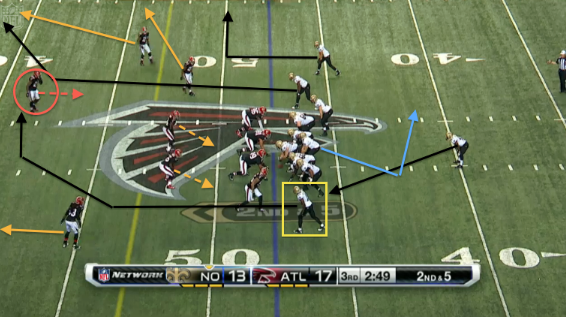 The Falcons are playing Cover 3 "Buzz." Think safety rotation here with the FS rolling to the deep middle of the field, Moore dropping to the inside hook and the nickel playing the curl-flat read to the closed (strong) side of the formation. With open side run action and WR Devery Henderson in a reduced or nasty split (close to core of the formation), this is an easy boot read for the Falcons' secondary.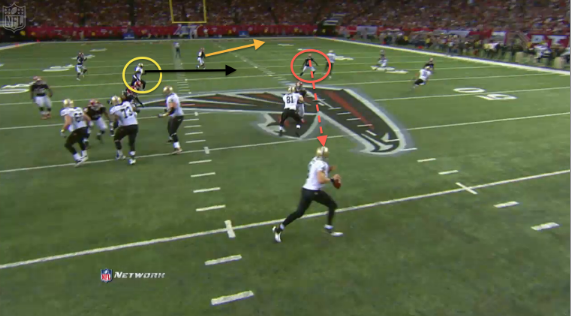 As a "Buzz" player, you are coached to drop between the numbers and the hash. Play with some depth (take away intermediate routes) and drive on the throw. With the nickel playing the flat route, Moore can sit and read the QB.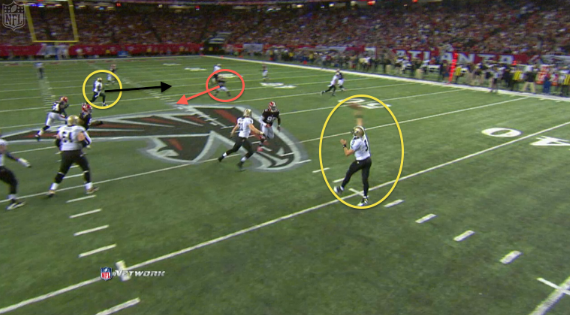 Brees can't make this throw. Look at what you get here with the QB throwing back across his body vs. a zone coverage. As a DB in this situation, stay square to the line of scrimmage and break on the ball.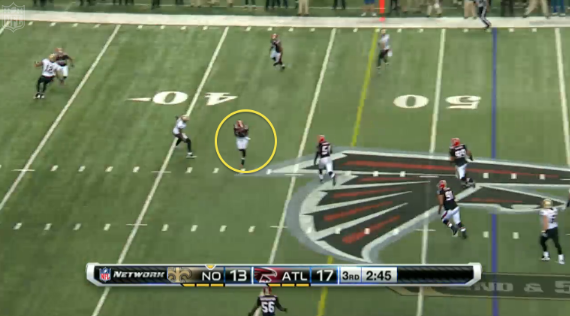 The finish from Moore. Again, we aren't talking about an exotic scheme. This is a 3-deep, 4-under zone shell with Moore playing the coached techniques of the defense to take advantage of another poor decision from a veteran QB. Five INTs? I didn't see that coming.
Follow me on Twitter: @MattBowen41