September 25, 2012 -
Matt Bowen
A rough night for the NFL
Let's not chase ghosts here and try to come up with a reasonable exploitation why Seahawks' WR Golden Tate was awarded a TD on that final pass from QB Russell Wilson.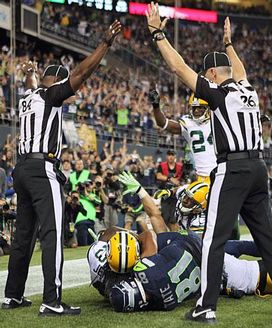 The ending to the Packers-Seahawks game is an embarrassment to the NFL.
We all saw it. No need to talk about rulebooks, "simultaneous possession," etc. Save it for another day, because I'm not buying it.
That was a pick. An interception. A game closing play from Green Bay's M.D. Jennings.
Could Jennings have knocked it down like every DB coach in the league is going to say to their secondary this week? Maybe, but the fact is he didn't. He went up, attacked the ball at the highest point and finished the play instead.
And now we are stuck talking about the replacement refs blowing a call that just cost the Packers a game.
Think about it: this isn't a holding call, a bad spot, a missed pass interference situation down the field. We've all seen those over the first three weeks of the season and again tonight in Seattle. Frustrating when it happens to your team? Of course it is, but both players and coaches have to work though that.
Not this. Nope. This is bad football.
Its unfortunate, because I wanted to talk about the Packers' second half offensive adjustments, a Seahawks' secondary that can press-man vs. any WR unit in the league, Chris Clemons, Bruce Irvin or Aaron Rodgers playing productive football after being thrown to the ground consistently in the first half. There was actual football to break down here.
Instead, I'm up too late writing about replacement refs (again) about a missed call that is going to be discussed all season long—or until the regular crews show up on Sundays.
Seattle is 2-1. Green Bay is 1-2. I get it. But we have to understand that these games are hard to win in the NFL. Real hard. And to see one go down like this is, well, embarrassing to the league from my perspective.
Will it spur action and send the replacement refs home? I would hope it at least gets the two sides talking. Because you can't have this in pro football.
It's just not good enough when it costs a team a win.
Follow me on Twitter: @MattBowen41