December 31, 2010 -
Matt Bowen
All eyes on Bradford
Let's talk Sam Bradford today before you head out for your New Year's Eve plans. Come Sunday night, we get to watch the rookie head to Seattle for what is essentially a play-in game. Win and you're in. That simple. Play productive football, limit the amount of turnovers by your offense and you could be hosting a home playoff game next weekend. And anything can happen once you are in that post season tournament.
A big spot for a rookie QB? No question. This is bigger than any bowl game than Bradford has ever played in—no matter the circumstances. This is pro football and the young QB is playing for a shot to compete on the NFL's biggest stage.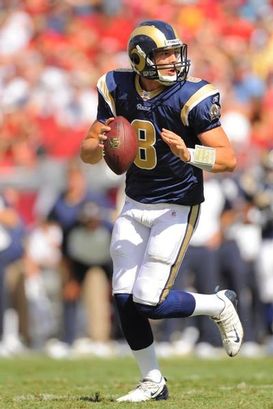 ICONBradford will face a pressure situation on Sunday night in Seattle.
Bradford has looked like a veteran QB at times this season. I have been impressed with his poise in the pocket, his ability to throw the ball on the run and his overall decision-making process. We don't often see that from rookies, and one glance at the Rams depth chart will tell you that Bradford isn't working with top-tier receivers. No Larry Fitzgerald, Andre Johnson, Greg Jennings, etc. This guy is doing it with a position that will be upgraded this offseason in St. Louis.
And we have also seen him struggle against pressure defenses like the Saints. That's going to happen. He isn't going to be perfect and he will make some mistakes. Even veteran QBs force the ball in certain situations—or get too safe and play a game of check down football.
However, we are talking about one game here. There should be pressure on Bradford to produce. And we should all want to see how he responds vs. the Seattle defense. Can he sustain drives and make that big play on 3rd down? What about the red zone? A two-minute situation? Or, down by a score in the 4th quarter? These are the game situations that we will judge Bradford on come Monday morning.
Qwest Field is a rough place to play. I was on a Redskins' team that lost a game in the playoffs up there back in the '05 season. The crowd noise is immense and it will have the feel of a playoff game once that ball is kicked off. All part of the pressure that comes along with playing in a big time NFL game—especially at the quarterback position.
Bradford is going to walk away with the Offensive Rookie of the Year award. No question about that. But he can add to this impressive first season with another win and a division title on Sunday night. And all of his teammates will thank him for those playoff checks when they arrive in the mail. Money well earned.
I'm excited to watch him play…let's see what he does.
Follow me on Twitter: MattBowen41