August 22, 2012 -
Matt Bowen
All eyes on Russell Wilson
With QB Russell Wilson getting the start this Friday night for the Seahawks (plus a legit shot at the No.1 job for Pete Carroll's club), what should look for from the rookie vs. the Chiefs?
Here are my notes on evaluating Wilson…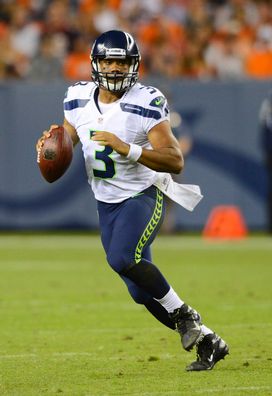 US PRESSWIRESeahawks' rookie QB Russell Wilson will get the start Friday night vs. the Chiefs.
Display play making ability: Extend the play, get outside of the pocket, allow WRs time to convert routes, produce in the boot and sprint game, etc. The way I see it, Carroll and this Seahawks staff already know what they have in veteran Matt Flynn. This Friday is an opportunity for Wilson to display a skill set that creates some more flexibility in the Seattle playbook. A different dynamic at the QB position when you have a player that can use his feet and vision to produce plays.
Identify and execute vs. pressure: Remember, in the third week of the preseason teams will game plan for opponents. That means film study, scout -team work and an advanced playbook. Wilson will see some pressure from the Chiefs, plus some different looks in the secondary. The key for the rookie is to identify blitz schemes, work the ball to his "hot reads" and step into throws with pressure at his feet. Wilson has to recognize where the blitz is coming from and read coverages in the secondary vs. starting defensive talent. Not easy as a rook.
Put scoring drives together: Run the offense and execute the game plan. For Wilson that translates into converting third downs, quick reads in his route progressions and decision making in the red zone. The goal for any first team offense in the preseason is to produce drives that lead to points. You do that by avoiding negative plays and staying out of adverse situations (3rd and 11-plus).
Ball security: Sounds too simple to talk about a QB protecting the football, but the easiest way to lose a competition is throwing interceptions or putting the ball on the ground. Can't have it. Turnovers take points off the board and put your defense in a tough spot. Wilson has to recognize that taking the check down is a "win" in many situations. If its not there, don't force it. Dump it off and move on to the next play.
Follow me on Twitter: @MattBowen41