August 04, 2011 -
Matt Bowen
All quiet in Green Bay
Since the start of free agency, the No.1 topic in the NFL has been Andy Reid and the Eagles. Big spenders, bringing in talent (almost daily) and pulling off the biggest move of them all by landing CB Nnamdi Asomugha. And there are also other teams outside of Philly willing to hand out money during free agency, such as Seattle and Arizona.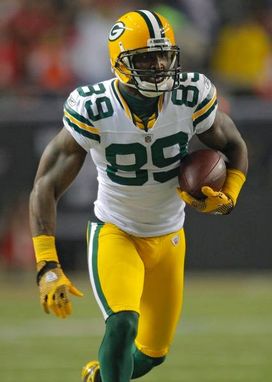 ICONBringing back WR James Jones was one of the few moves the Packers made.
But the one organization that no one is talking about is Green Bay.
It has been very quiet for the Packers since players started agreeing to deals. They don't chase big names or look for a "quick fix" on the market. Instead, they develop their own talent, resign key players on the roster and get back to the practice field. That's how business works in Green Bay.
Sure, Mike McCarthy's team lost a few players (RB Brandon Jackson, DT Cullen Jenkins, OG Daryn Colledge, etc.), but that is inevitable when you win a title. Players move on and no locker room is ever the same in this league from year to year.
However, look at the three deals this team has made since last week:
-WR James Jones: 3-year deal
-FB John Kuhn: 3-year deal
-K Mason Crosby: 5-year deal
That's it. Re-sign the players that contribute and play a significant role to your ballclub on Sundays. A topic that ESPN's Kevin Seifert discussed after his recent trip to Packers' training camp. No big name rush backer, corner or running back. Why? Because the Packers do what every GM and head coach talked about at the podium during the NFL combine back in February: build through the draft.
The exact plan we saw this April when the Packers selected OG Derek Sherrod, WR Randall Cobb (a rookie that can be dynamic in this offense), RB Alex Green, etc.
And when you do that, key players such as Aaron Rodgers, Greg Jennings, Nick Collins and Clay Matthews are already in the mix. You don't have to go chase that talent, over-pay with a big bonus or hand out years on a contract that will never play out.
It's a unique idea, right? Something I never saw when I was playing for Dan Snyder and the Redskins. We always looked for that instant production through free agency (something I bought into when I left Green Bay and headed to Washington).
Not in Green Bay with McCarthy and Ted Thompson. Their plan is solid and it is proven after winning Super Bowl XLV. So while the Eagles continue to scoop up more players (have to wait and see who they sign today), the Packers will be back at practice with their core talent already under contract.
Follow me on Twitter: MattBowen41