January 26, 2013 -
Matt Bowen
All-22: A look at 49ers 'Inverted Veer' scheme
Click here for the entire Inside the Playbook series.
Click here for my previous video breakdown of the Inverted Veer scheme.
Looking ahead to Super Bowl XLVII, the Ravens will have to prep for QB Colin Kaepernick and the 49ers' Read Option (or Zone Read). However, don't forget about the Inverted Veer (Power Veer) scheme the 49ers put on tape in the NFC Championship. Another way for Jim Harbaugh's club to test the edge of the defensive front with Kaepernick reading through the mesh point.
Let's go to the All-22 tape and breakdown the scheme…
49ers vs. Falcons
Personnel: Posse (3WR-1TE-1RB)
Formation: Doubles Slot (Gun Far)
Scheme: Inverted Veer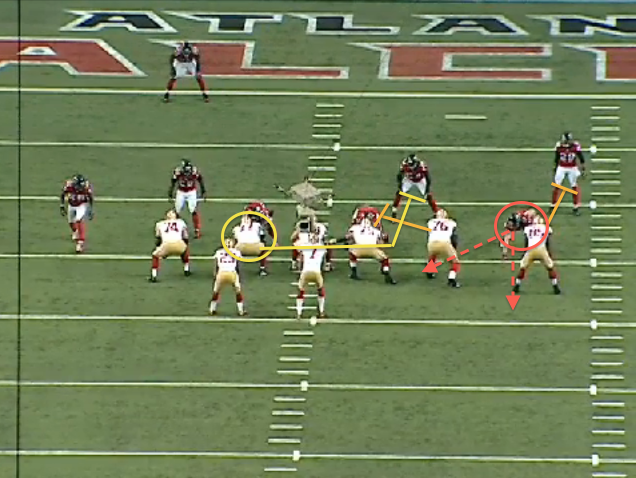 - The 49ers are going to put stress on the closed (strong) side DE with the TE on an "arc" release (outside release to the second level) and the backside guard pulling (think of Power O blocking). Ride the RB (LaMichael James) through the mesh point and read the path of the DE.
- Why the "arc" release vs. the SS? Look at it as a false pass key. With the Falcons playing Cover 1 (man-free), the SS has to read Vernon Davis for his run/pass keys. By releasing Davis up the field, the Niners can remove the SS from the run front and create an easy blocking angle for the TE.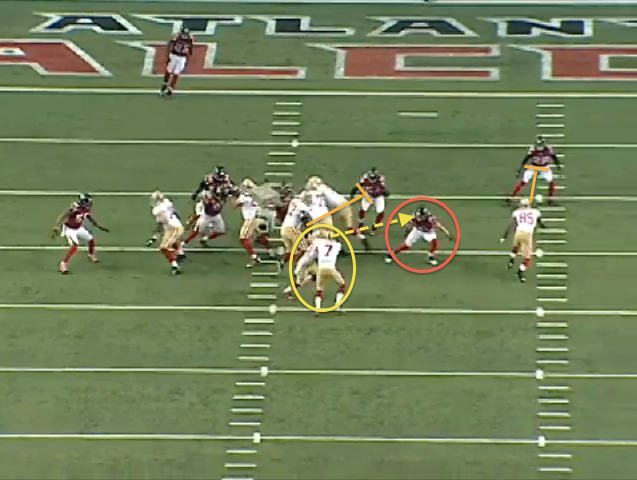 - Here is a look at Kaepernick reading the DE through the mesh point. If the DE stays up the field (RB path), the QB will keep and follow the pulling guard through the hole. However, if the DE squeezes the hole (or hesitates), Kaepernick will give to James.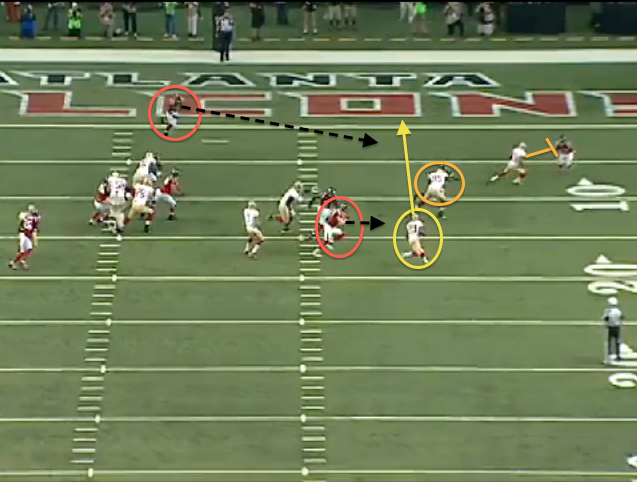 - Because the Falcons' DE hesitates at the point of attack, Kaepernick gives to James with the 49ers setting up a running lane. The backside guard gets enough of the Sam Backer to slow his angle to the ball and Davis fits up on the SS. With both the Nickel and closed side CB removed vs. the slot formation, the FS (deep middle of the field player) has to run the alley and make an open field tackle.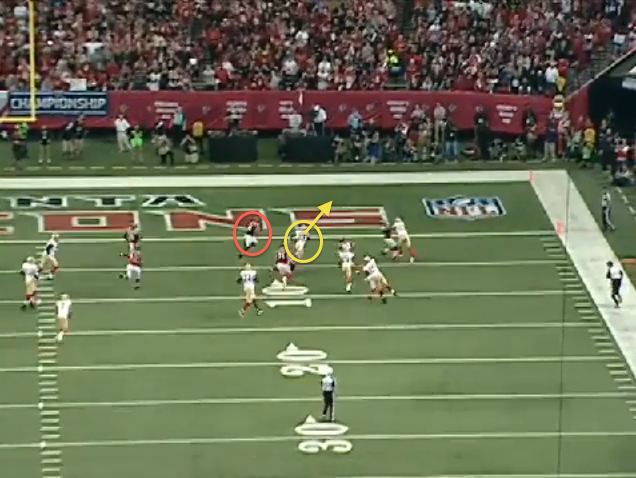 - Speed sells with James. The 49ers' RB eliminates the angle of the FS and puts this ball in the end zone. Just another example of what the 49ers can do offensively next Sunday on the Super Bowl stage.