November 30, 2012 -
Matt Bowen
All-22: Ball in the 'strike zone?' Throw the Pump-Seam
Click here for the entire Inside the Playbook series.
If you are putting together a game plan vs. a defense that leans on single high safety looks (think Cover 3, Cover 1), why wouldn't you run the "Pump-Seam" when you get into the strike zone (20-35 yard line)? Using the All-22 tape from Carolina's win this past Monday over Philadelphia, let's check out Cam Newton's TD pass to TE Gary Barnidge.
Panthers vs. Eagles
Personnel: Tank (1WR-2TE-2RB)
Formation: Big Wing
Route: Pump-Seam
Defensive Scheme: Cover 3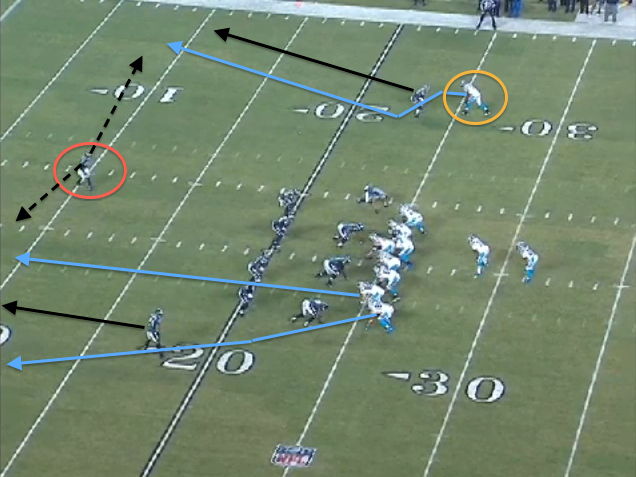 - Running vertical concepts out of Tank (1WR-2TE-2RB) or Ace personnel (2WR-2TE-1RB) is a smart idea because you can disguise or window dress the route scheme with a Big Wing alignment.
-Pre-snap alignment for the FS? This is correct. As a deep middle of field defender in Cover 3 or Cover 1 you want to "split" the formation with your alignment.
-The idea behind the "Pump-Seam" is simple: move the FS out of the middle of the field. With a "Sluggo" (slant and go) to the open (weak) side of the formation, Newton will pump and come back to the inside vertical seam.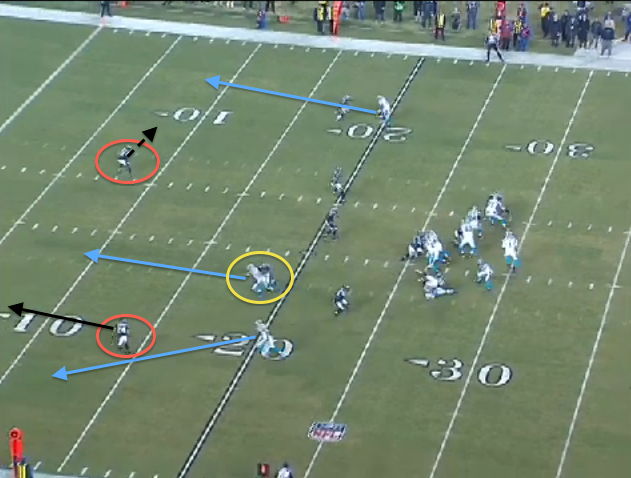 If you can force the free safety to lean to No.1 (or even open his hips), there will be room to target the inside seam. However, don't forget about the outside vertical vs. Cover 3. The Panthers have to occupy Nnamdi Asomugha and prevent the CB from overlapping Barnidge's route. That's why you coach up No.1 to the closed (strong) side of the formation to stem his route outside of the numbers.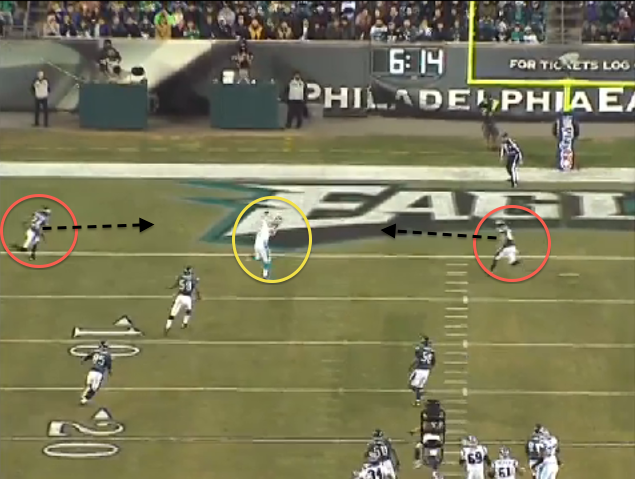 As we can see on the end zone angle, Barnidge's route splits Asomugha and the FS. Solid execution from the Panthers given the field position and the personnel in the huddle vs. a 3-deep zone look.
Follow me on Twitter: @MattBowen41