July 26, 2011 -
Matt Bowen
An inside look at NFL cut day
I was cut three times during my seven-year NFL career. That means pack your gear, clean out your locker and call the moving truck—because it is time to start over again.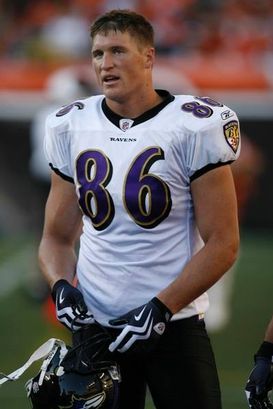 ICONThe Ravens will cut a core group of veteran players, including TE Todd Heap.
And despite all the high fives we are giving out for the agreement between the NFLPA and the owners to end the NFL lockout, there will be plenty of veteran players that will hit the street later this week.
We have already seen some of the names that will be let go by the Ravens: Todd Heap, Willis McGahee, Derrick Mason and Kelly Gregg. These are players that have produced and played winning football for years in Baltimore.
Now? Out of work—for the moment.
They will get scooped up (along with plenty of more players that will flood and overcrowd the free agent market), but now they will be looking for another team to call them on the phone and make an offer.
And I can tell you from my own experiences that it stings—even when you know it is coming.
Go back to 2005, in March (when vets are normally cut loose in a normal league year). I had just landed in Las Vegas with my cousin Michael and was about to check into my room at the MGM Grand when my phone rang. I looked at the area code (703) and knew exactly who was calling: Joe Gibbs.
Now, I fully expected to get cut that offseason by the Redskins, but my heart still started pounding when I answered the phone. Gibbs (like all NFL coaches at cut time) gave me the "speech." Company lines to cool down the situation.
About ten minutes later, my cousin comes back up from the casino with a 24 oz. Budweiser in hand and says: "I just lost a grand."
My response: "I just cut."
Brutal, right? Of course, but getting cut in this league always is. And this week it will take on a an entirely different meaning with the shortened prep time that every NFL team has for camp.
We talk about the big name free agents (Nnamdi Asomugha, Santonio Holmes, etc.), but there will be more players that coaching staffs and front office personnel have to digest at an extremely fast rate.
NFL players will lose their jobs. That is part of this game, but it still hurts when a team tells you they no longer want you on the roster.
Cut day is coming. Fun times.
Follow me on Twitter: MattBowen41