December 15, 2011 -
Matt Bowen
An inside look at the Packers' 'Spot Route'
to read the entire Inside the Playbook series.
Every NFL offense carries the "Spot" route in their game plan. A 7 (corner)-curl-flat combo that we will see out of a bunch look on 3rd downs and inside the 10-yard line. Run off the top of the defense with the 7 cut, widen the underneath defenders on the flat route and target the curl.
A base concept that the Packers ran this past Sunday vs. the Raiders at Lambeau Field to produce a TD when QB Aaron Rodgers connected with TE Ryan Taylor. Nothing unique, until you see the personnel and alignment Green Bay used to add some "window dressing" to the game plan.
The Packers brought four TEs (yes, four) on the field with one WR in an empty alignment. A personnel package head coach Mike McCarthy calls "Panther" (via @PackerReport). A creative use of personnel to break tendencies and disguise a route concept.
Here is a list of the base personnel groupings that you will see on Sundays:
Regular: 2 WR,1 TE,2 RB
Ace: 2 WE, 2 TE, 1 RB
Posse: 3 WR, 1 TE,1 RB
Houston: 3 WR, 2 RB
Jet: 4 WR, 1 RB
Kings: 4 WR, 1 TE
Tank: 1 WR, 2 TE, 2 RB
Heavy: 1 WR, 3 TE, 1 RB
Jumbo: 3 TE, 2 RB
To give you a better idea of what the standard "Spot" route looks like, I drew it up out of Regular personnel (2 WR, 1 TE, 2 RB). Use Z short "divide" motion to create a bunch look (Z,Y,F) to the closed (strong) side of the formation.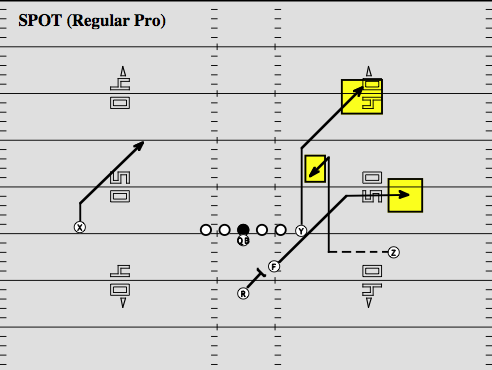 Like I said above, a basic route scheme with the TE (Y) on the 7 cut, the FB (F) to the flat and the No.1 WR (Z) hooking up on the curl. NFL offenses will use this scheme as a Cover 2, Cover 1 and Cover 4 beater inside of the red zone and on third downs when they have to move the sticks.
Now, let's take a look at how the Packers ran the "Spot" out of their "Panther" personnel; drawn up from their pre-snap alignment vs. the Raiders. Align in empty with TE Jermichael Finley removed to the open (weak) side of the formation as the No.2 and a bunch (three TEs) to the closed side.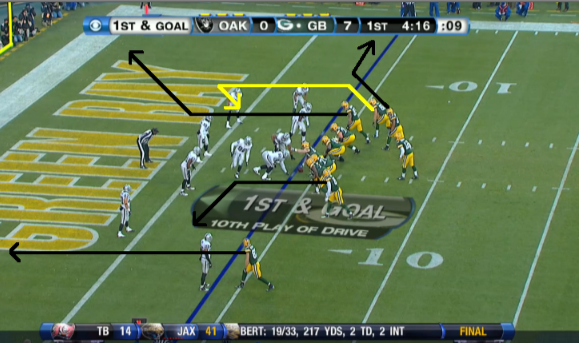 The Packers run a 9 (fade), option combo to the open side, but when you break down the route scheme out of the bunch it is no different than the "Spot" concept that I drew up. Target Taylor on the curl and put six points on the board.
A great example of how the top-tier offenses in the NFL use personnel and alignment to disguise a route concept that is installed on the first day of camp.
Follow me on Twitter: @MattBowen41