January 29, 2012 -
Matt Bowen
An inside look at the Patriots' red zone run game
Cover 2 shell in the red zone, Brady and the Patriots used a scheme that is similar to the Power O (down block, backside guard pull). Dig out the safeties and attack the second level of the defense on the ground.
First, check out the Pats from their pre-snap alignment.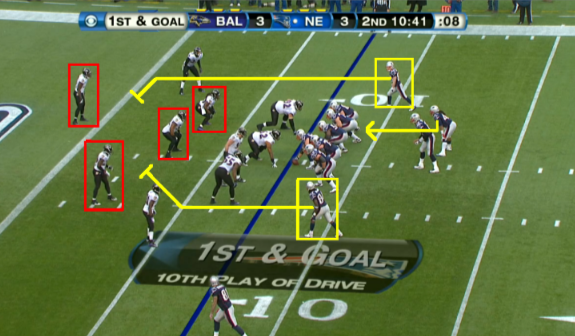 - The Patriots have Ace personnel (2 WR, 2 TE, 1 RB) on the field in a "Doubles Exchange" alignment (TE Aaron Hernandez removed from the core as the No.1 receiver to the open side of the formation).
- WR Splits. Always check the pre-snap alignment of the WRs when you break the huddle as a defensive player. Wes Welker is in a "nasty" (reduced split) to the closed side of the formation with the slot receiver, Deion Branch, on or near the hash mark. Inside of the 10-yard line, this is a pre-snap key with both WRs aligned tight to the formation to dig out the safeties (highlighted in red) in the run game.
- With both WRs taking a cut-off angle to block the safeties, the Patriots will handle the Mike and Sam Backers with the down block from RT Nate Solder and the pulling guard, Logan Mankins. Create running room and allow Green-Ellis to press the hole vertically.
Now, take a look at the blocking scheme and O-Line play from the end zone angle.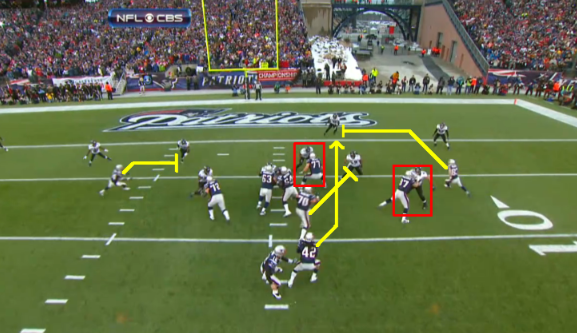 - Start with the down block from Solder (No.77) on Mike Backer Ray Lewis and the kick out block from TE Rob Gronkowski (No. 87) on the DE (both blocks highlighted in red). Impact fits on the defenders if this scheme is going to produce.
- Mankins will pull to the closed side of the formation and work up to the second level of the defense. With the double-team inside on the Nose, Mankins can now clear out the Sam Backer.
- With Brady aligned in the gun, Green-Ellis will take a slide step that allows Mankins to clear the hole and then get up the field. Add in the cut-off blocks from Welker and Branch that we talked about above, and there is now a clear running lane into the end zone for the Patriots' RB.
Remember, this is just one play from the Patriots' playbook, but a good example of how alignment and blocking schemes can be used inside of the 10-yard line to produce points. And with the Giants' defense playing seven-man fronts in the red zone (think Cover 2, 2-Man), we could see a similar scheme in the Super Bowl next Sunday.
Follow me on Twitter: @MattBowen41