December 29, 2011 -
Matt Bowen
An inside look at the TE position in the red zone
Click here for the entire Inside the Playbook series.
Let's go back to the Week 16 schedule in the NFL and look at the TE position inside of the red zone. Two routes (Pin, Slant) to breakdown from the Lions' and Packers' playbooks.
Chargers vs. Lions
Personnel and Alignment: Ace "Orange" (2 WR, 2 TE, 1 RB)
Route concept: Double "Pin"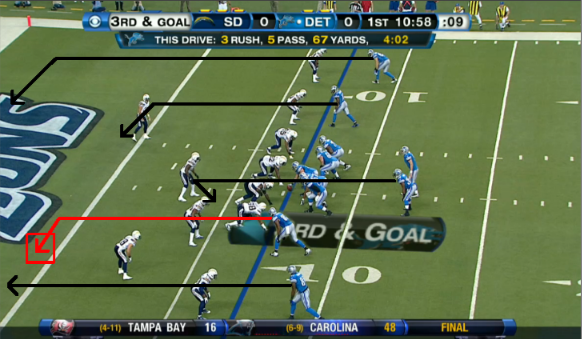 - With Ace personnel on the field, the Lions align in an "Orange" set (2x2 spread look) with TE Brandon Pettigrew removed from the core of the formation as the No.2 receiver to the closed (strong) side.
- The "Pin" combination is Cover 4 and Cover 2 beater. A concept we see across the league on Sundays. Put the stress of the defense on the safety reading the release of No.2. In Cover 4 (quarters), the Chargers' SS will read No.2 on the out/option, then "bracket" No.1 (Calvin Johnson). If he drives downhill on Pettigrew, QB Matthew Stafford will work Johnson on the post/dig.
- The matchup vs. Cover 4: Pettigrew on a curl/flat LB underneath. Work away from the leverage of the LB and break out to the numbers. Easy read and throw for QB Matthew Stafford.
Bears vs. Packers
Personnel and Alignment: Ace "Orange Exchange" (2 WR, 2 TE,1 RB)
Route: Slants/ Flat-9 (fade)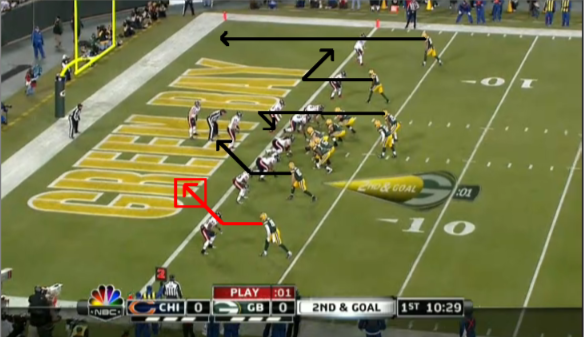 -The Packers are in the same personnel grouping that we saw with the Lions, but align in an "Orange Exchange" look (TEs aligned as No.1 receivers). Again, both TEs are removed from the core of the formation to matchup vs. Cover 1 (man-free).
- QB Aaron Rodgers lit up the Bears on Christmas night throwing the quick slant route in the red zone. Here to the open (weak) side of the formation, both TE Jermichael Finley and WR Jordy Nelson are running a basic one-step slant route. An inside breaking route back to the QB.
- The matchup here favors the Packers because of personnel. The Bears have their base 4-3 package on the field. With Finley aligned as the No.1 to the closed side of the formation, Sam Backer Nick Roach has to walk out in coverage. Rodgers and Finley can exploit Roach's technique and get a quick score on the board.
Follow me on Twitter: @MattBowen41