December 13, 2011 -
Matt Bowen
An inside look at the Texans' red zone playbook
Click here for the entire Inside the Playbook series.
Let's go back to Sunday and take a look at Texans' QB T.J. Yates. On the final drive, the rookie takes the Houston offense down the field to set up a scoring opportunity inside of the 10-yard line to win the game vs. Cincinnati.
The route: an underneath slant to WR Kevin Walter vs. the Bengals' Cover 2.
Check out the Texans from their pre-snap alignment and then we will get into some coaching points (plus the video replay) to breakdown why Yates was able to deliver the ball for a TD and get the 20-19 win on the road.
Texans vs. Bengals
Personnel: Posse (3 WR, 1 TE, 1 RB)
Route concept: Underneath slant (rub-route)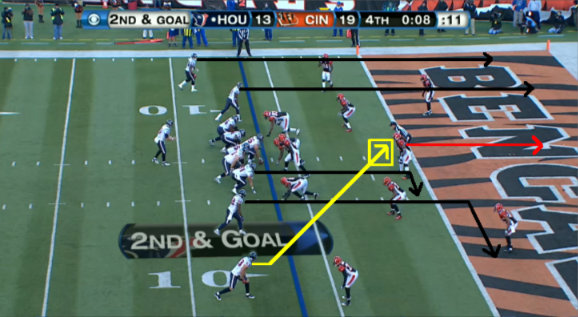 Formation alignment: The Texans create an empty alignment by motioning RB Arian Foster (called "waste" motion) out of the backfield. Houston has double seam routes to the open (weak) side of the formation, but Yates is going to work the closed (strong) side and target the No.1 WR (Walter).
Route concept: This scheme is ideal vs. Cover 1 teams because it creates a natural "pick" situation (or rub) with the slant route from No.1 coming underneath the double-out concept. And when we see it vs. Cover 2, the QB can target the vacated hole in the middle of the field. Quick, easy read for a rookie in a crucial game situation.
Working vs. Cover 2: In the red zone, there are multiple routes to defeat the 2-deep look (4 verticals, Flat-7, Double China-7, etc). And NFL offenses will test the depth and eyes of the Mike Backer to work the middle of the field. Inside breaking concepts that target underneath holes in the zone coverage.
Depth of the Mike backer: This is key, because the Bengals Ray Maualaga sinks with too much depth in his drop. With the closed side CB and Nickel removed from the play because of the double-out routes, the middle of the field is now vacated. A perfect call in this situation that provides a clear throwing lane for Yates to pick up the win.
Want to see it play out? Take a look at the replay…
Follow me on Twitter: @MattBowen41