December 11, 2011 -
Matt Bowen
Another comeback win for Tebow, Broncos?
How do you even break this game down? The Bears' defense controls Tebow and the line of scrimmage for the majority of the game, but once again we watch as the Broncos' QB starts to play good football in the fourth quarter. And when you add in some terrible decision making from Bears' RB Marion Barber (plus the OT fumble) we are looking at another improbable Denver win.
Here are my notes from one of the strangest games I have seen in a while…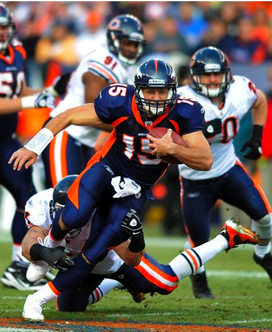 The Broncos move to 7-1 with Tebow under center after another comeback win.
- Tebow's numbers? Really poor through the first three quarters (3-16 and an INT). The Bears played some Cover 1, Cover 2 and got pressure from their front four on third downs. Solid game plan vs. a QB that struggles to throw the ball into tight windows. However, in the fourth quarter and OT Tebow (18-24 for 191-yards) was able to extend the pocket multiple times and his WRs started making plays for him. That's a key when we look at this Denver offense. Unconventional for sure, but the plays being made are the No.1 reason we consistently see them produce crucial game situations. Tebow finishes 21-40 for 236-yards.
- What happened on that Denver TD drive in the fourth quarter? The Bears played a lot of Cover 2 and Tebow took the underneath concepts (think flat, hitch and check down). With Chicago not generating a pass rush, those dump off routes start to add up. And when we go to the TD pass to Demaryius Thomas, Tebow was able to step up—with time. Safety Chris Conte attacked the line of scrimmage and CB Zack Bowman didn't sink with enough depth. A classic example of Cover 2 breaking down and a WR finding an open hole in the end zone.
- How did the Bears limit the option vs. Tebow? Sold reads at the line of scrimmage and lateral speed from the DE position to string out the QB and the pitch. Outside of one Read Option where Tebow got Julius Peppers to slant hard inside, Lovie Smith's defense shut this down. It was a non-factor in this ball game.
- Marion Barber should take some heat. The Bears' RB made a major mental mistake when he went out of bounds with an opportunity to run the clock out. You have to close out Denver with a 10-7 lead in the fourth quarter. And when we talk about the OT fumble there aren't any excuses. You can't put the ball on the ground when you are in position to kick a game winning FG. It shoud be a long flight back to Chicago for Barber, because those are two plays that led to the third straight loss for the Bears.
- Where does this leave Lovie's team? With wins from both Atlanta and Detroit today (plus a lack of any explosive talent on this offense) this team can't be viewed as a playoff threat. No question the injuries to Jay Cutler and Matt Forte flipped this season upside down in Chicago. But look at the last two weeks in the losses to K.C. and now Denver. Injuries or not, those are games you must have to stay in the hunt.
Look at it this way: Tebow is 7-1 as a starter for a team that plays excellent defense and gets some breaks. And you need those breaks to put a winning streak together in this league. I've never seen anything like it, but it sells in Denver.
Follow me on Twitter: @MattBowen41