February 25, 2011 -
Matt Bowen
Another guarantee from Rex Ryan?
Rex Ryan provides entertainment when he is at the podium. I saw that on Thursday here in Indianapolis. Big crowd, a certain buzz in the room when he stepped up to the microphone and that confident arrogance when he talks.
As a former player, I eat that up. I like the brash talk and, of course, the guarantees. And that is exactly what we heard—again—from the Jets' head coach inside Lucas Oil Stadium: the Jets will win the Super Bowl in 2011.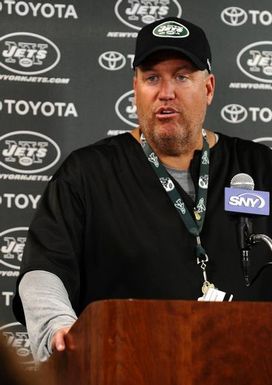 ICONRyan was talking about Super Bowl guarantees again on Thursday in Indy.
However, are the "guarantees" from Ryan losing their impact? We heard the same talk from Ryan before the 2010 season. There are multiple ways to spin podium talk (or offseason talk), and I am sure there will be opinions on what was said—or predicted—during a press conference at the end of February. But from the perspective of the players, I look at it as a positive.
NFL players, in general, want to be challenged, or pushed. I would even say that they welcome the arrogance of a coach that isn't afraid to put the entire locker room out in the open. Because that is what I saw from Ryan. Let the Patriots, Dolphins, Bills and the entire AFC know that they are the team to beat.
Does it put any added pressure on the Jets' players to perform? Without a doubt, but you want (and need) that sometimes as a player. It is a unique way of coaching from Ryan, but I also think it attracts pro players. They gravitate to coaches who aren't afraid to call out the entire league while he is up at the podium in Indianapolis.
Forget rookie prospects, positions of need or upgrades that the Jets need for their roster. That is the standard way to open up a press conference here at the combine. Preach the company lines and give answers that dry out notebooks.Not with Rex Ryan. Before he even addressed any combine talk, we heard about winning Super Bowls again.
I have said before that Ryan is the type of coach I would want to play for. I still believe that and today was another example why. Because if I am going to sit in team meetings and listen to a head coach sell me on why we can win a title, I want to hear him talk with confidence—even if it is perceived as arrogant.
That's what you get with Ryan. Super Bowl guarantees in February are cheap. I will admit that. But from my perspective, it still sells when it is coming from Rex Ryan.
Follow me on Twitter: MattBowen41