April 05, 2011 -
Matt Bowen
Another lockout issue
The NFL lockout has already lasted over a month. No free agency, trades or any sort of veteran player movement are evident examples of the fallout. And no contact between player and coach, which includes the basic idea of a playbook.
I think this is an absolute mess from a football standpoint—but it gets worse.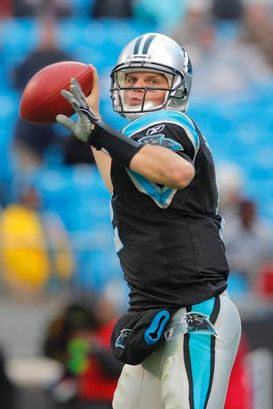 ICONJimmy Clausen won't be able to practice for Ron Rivera before the draft.
New coaching staffs do have the luxury (and something I see as a necessity) of holding an extra mini camp in the offseason. That camp—which is a usually a veteran camp—is held on one of the weekends leading up to the draft.
However, as new Vikings' coach Leslie Frazier announced on Monday, Minnesota will cancel their scheduled camp this weekend because the NFL is currently closed for business. And we can apply the same thing to new staffs in Carolina, Denver, Cleveland, Tennessee, San Francisco, and Oakland (unless the lockout is suddenly lifted).
In reality, these camps are an audition for veterans in front of the new coach. New playbooks, techniques, practice habits, etc. All important phases of the first pre-draft mini camp with a new boss in town.
But the bottom line here is simple: coaches want to evaluate the vets at these camps—because they are looking to replace them.
I've been through two of these pre-draft camps as a veteran during coaching changes in Washington under Joe Gibbs and in Buffalo under Dick Jauron. What is usually a glorified OTA for current players on the roster turns into a competitive atmosphere, because jobs (and future paychecks) are at stake. You know the coaching staff is going to set their draft board off of what they see with the (leftover) talent on the practice field.
The veterans who will be working under new coaches understand this. Losing that extra weekend to learn new schemes and pre-snap alignments hurts, but not as much as the opportunity for vets to showcase their talents—even in shorts and helmets.
Think of some of the young talent that is on stage for the new staff to evaluate. Jimmy Clausen in Carolina (a club that has been connected with both Cam Newton and Blaine Gabbert) or Tim Tebow in Denver. What that pre-draft mini-camp provides is three days of practice in front of the new head man. Now—in the current state of the NFL—that is lost.
And it hurts both sides. Coaches are now regulated to watching tape, losing out on the chance to work with these veterans and see them up close on the practice field, in meetings and under the stress of learning a new playbook over night—something you can't see in the film room. That isn't good Ron Rivera, John Fox, Jim Harbaugh, etc.
As I said above, the NFL lockout is a mess from my point of view when we apply it to actual football on the field. And right now, no one is winning. New coaching staffs included.
Follow me on Twitter: MattBowen41