March 28, 2012 -
Matt Bowen
Anyone buying the Colts 'smokescreen' on No.1 pick?
Can we assume that the Colts will take Andrew Luck off the board with the No.1 overall pick in next month's draft? A true pro style QB (with athletic ability and intangibles) that can throw the entire route tree. Exactly what you are looking for when you grade out QB prospects.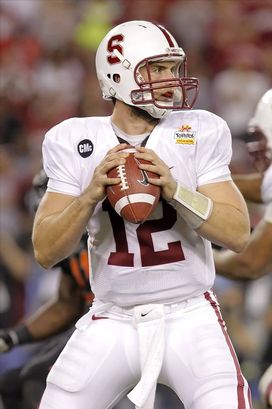 ICONWould the Colts pass on Andrew Luck?
However, Colts owner Jim Irsay isn't saying whether the team will draft Luck or take a look at Baylor's Robert Griffin III when Indy is on the clock.
Here's what Irsay had to say at the owner's meetings (via Jim Corbett of USA Today): ""It's up in the air. We have to look at this thing completely open-minded. You have two outstanding athletes, two great pure passers, two guys from families that are incredible.''
I get it at this time of the offseason. The month leading up the draft is full of 'smokescreens' and it's hard to buy into any information that leaks out of team facilities.
With Griffin, the Colts should be watching tape on the Baylor product. He has a unique skill set, provides creativity to your offense and has the arm strength (plus accuracy) to make plays at the pro level. Multiple ways to utilize his talents on Sundays. A top prospect I would love to coach.
Is that enough for the Indy to look past Luck? Probably not. And as the NFP's Dan Pompei wrote this past weekend, the idea of RGIII over Luck doesn't sell with the front office sources he talked to.
We should expect to hear more from Irsay and the rest of the clubs as the weeks roll on until the opening night of the draft. That's part of the drill in late March and April. Plenty of time for more info to come out on the top prospects in the draft.
But I'm sticking with Luck to the Colts and RGIII in Washington. You?
Want to learn how to study the NFL Draft? Click here to signup for the NFP's online scouting class.
Follow me on Twitter: @MattBowen41