November 29, 2011 -
Matt Bowen
Anyone have an answer for Saints' Sproles and Graham?
Before kickoff on Monday night, I discussed the impact of Saints' RB Darren Sproles and TE Jimmy Graham from a game plan perspective. Two players that can create matchups issues when we talk personnel and alignment.
And after watching Drew Brees and this Saints offense take care of the Giants 49-24 in the Dome, here are a couple of notes on both Sproles and Graham we can breakdown…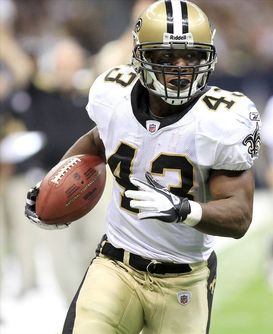 ICONWith Sproles, the Saints have a player they can use in a variety of concepts.
- One thing that I noticed last night is the Saints using their "Pony" personnel (2 tailbacks). With Ingram (or Thomas) in the backfield, Sproles can now be aligned as an extra wide receiver in the slot or as a No.3. We saw the reverse, the option route, etc. On top of that, you will still see the screen game, edge runs and the underneath route tree that puts Sproles on a LB or a safety. Good luck with that in your defensive game plan if you want to bring pressure or play man-coverage.
- Always start with the red zone when discussing Graham, because this is where you run into trouble as an opposing defensive coordinator. With the Saints (along with the Packers), think slant or fade to the TE position. Removed from the core of the formation as an X receiver (split end), Graham is going to play off your leverage as a DB (CB or safety), and you initial alignment isn't enough to match his skill set. Out in the field, we saw Graham run the 7 cut (corner), work over the middle of the field vs. Cover 2 (Tampa 2) and 2-Man (2-deep, man-under), plus run routes from a variety of alignments and multiple personnel groupings.
No different than breaking down the concepts and personnel in Green Bay, this playbook down in New Orleans is nightmare to game plan for when you add in Sproles and Graham. And that's on top of what Brees has consistently done with his core group of WRs.
Check back to the NFP at 11 AM EST for my Xs and Os breakdown of the Packers' sprint action vs. the Lions...
Follow me on Twitter: @MattBowen41