January 30, 2012 -
Matt Bowen
Anyone surprised Peyton is the top story during Super Bowl week?
I would expect the talk surrounding the matchups between the Patriots and Giants to increase as we get closer to Super Bowl XLVI on Sunday. However, outside of the ankle injury to TE Rob Gronkowski and a media generated headline on Tom Brady's "speech" before the Patriots left town, all I keep reading about is Peyton Manning's future.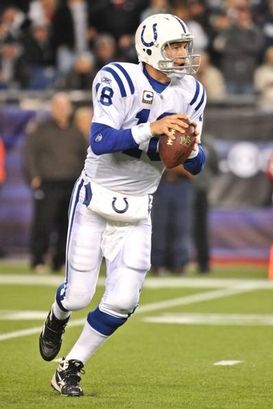 ICONThe focus at the start of Super Bowl week is on Peyton Manning's future.
We will hear more on the actual game after media day in Indianapolis with both clubs tomorrow, but the focus is still hanging on Manning.
Multiple reports, doubts on his health and the (real) possibility that the future Hall of Fame QB will be on the streets looking for work when (or if) the Colts cut him loose.
Not surprising with the Super Bowl being played in Indy or the fact that Colts' owner Jim Irsay has no issue being a public figure with the media or on social networks.
And I can't say I blame anyone who beats this story up all week long because of what Manning could bring to a team this offseason. Think about it: a top tier QB that is available.
We don't see that. Instead, we watch as teams consistently overpay for QB help through free agency (Kevin Kolb deal to Arizona last offseason) or find move up in the draft to target a rookie that is eventually thrown out onto the field before they are ready to win in the NFL.
Not with Peyton. This is a sure thing—if healthy.
You get a player that not only upgrades your roster but also makes you a contender in the NFL for the 2012 season. Look at the Redskins, Browns, Dolphins, 49ers, Seahawks, Cardinals and even the Jets. He walks into those camps as the clear No.1. Hand him the playbook and start winning.
The NFP's Andrew Brandt did an excellent job breaking down the contract situation with Manning and the Colts this past week. It won't be a pretty ending to the QB's career in Indy, but then again, it never is when a player is cut from the roster.
That's no fun for anyone involved.
But to think of Peyton as the top story on the Monday of Super Bowl week? I get it, and I also expect this story to continue for a long, long time.
Because if Manning can rehab and prep for the 2012 regular season, he will be one of the biggest names in free agency we have seen in a while.
Follow me on Twitter: @MattBowen41