June 06, 2012 -
Matt Bowen
Anyone surprised Weeden is getting 1st team reps?
Brandon Weeden should get first team reps in the offseason as he did on Tuesday with the Browns during mini-camp. That's what you do with a rookie you want to see on the field early and those reps are vital when it comes to the QB position.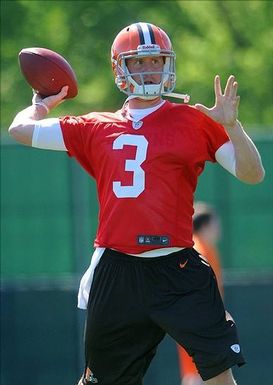 Weeden should see multiple opportunities to win the No.1 job in Cleveland.
The rookie from Oklahoma State was drafted to replace last year's No.1 Colt McCoy. And because of that, Weeden needs time throughout the offseason to get a good feel for the playbook, the techniques of the scheme and to work with his WRs before the Browns open up training camp.
The coaching staff will call it a "competition" at the QB position, but everyone involved in the Browns organization (including McCoy) should know better. Weeden will get multiple opportunities to make mistakes (and corrections) with the idea of getting him on the field for opening day.
That's first-round treatment right there—and it happens all over the league. The majority of the top picks are drafted to play (and contribute) immediately.
Could we still see McCoy as the No.1 after the pre-season schedule wraps up? Sure, that is a real possibility if the rookie struggles to protect the ball in August and doesn't give the club the best change to win games in September. We have seen that before.
However, the Browns moved up to draft RB Trent Richardson in the Top 5 and then scooped up Weeden later in the first round for a reason: to improve (and upgrade) their offense. And if rookie QB doesn't start the season as the No.1 in Cleveland, it is on him.
No question here that the Browns want Weeden to be the No.1 this season. Give him the reps and allow him to roll into traning camp ready to win the starting job.
Follow me on Twitter: @MattBowen41