August 15, 2012 -
Matt Bowen
A.P. is back on the field already?
Maybe the expected recovery time from a serious knee injury doesn't really apply to Adrian Peterson. At least I'm starting to think that way.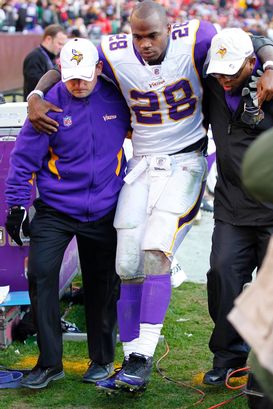 US PRESSWIREPeterson tore his ACL and MCL in his left knee last December, but he is already back on the practice field for the Vikings.
The RB went through drills (in full gear) at Vikings camp on Tuesday after being cleared to practice. That's amazing. I mean, that's really amazing to see him back on the field already.
Sure, the Vikings coaching staff will limit A.P. throughout the preseason and we can't guarantee that he will see a heavy work load early this fall in the Minnesota backfield.
However, we are talking about a RB (a skill player) that tore both the ACL and MCL in his left knee on December 24th--and he is already taking some handoffs in camp.
For most players, you blow out a knee and you are in for a long recovery period. In fact, you live in the training room. That becomes your second home. Hours spent on that table, starting with simple movements to regain flexibility and working up to functional training out on the field.
In reality, you have to learn how to run again before you can even think about competing at the pro level. It is a grind, a daily battle that you sometimes lose. Up and down. That's life during knee rehab.
I went through it as a player with the Redskins after tearing an ACL. You eventually get there, work your way back onto the field again and start the process of regaining strength, speed and agility in the knee you just tore up.
There could be some struggles for Peterson this year with swelling, pain and the daily maintenance required as a player to keep the knee fresh. This is an ongoing process that unfortunately doesn't stop once you come back.
From my own experience, it is usually an entire calendar year before you start to see the same burst, top end speed and lateral ability in your game after reconstructive knee surgery. You can play (and still be productive) coming off of rehab, but you don't feel comfortable as an athlete until a year later.
That will be the next step for Peterson. Live game situations where we can get a good look at his movements, open field ability and speed once he gets to the second level of the defense.
And after seeing him back this soon, does anyone want to doubt him? I don't.
Follow me on Twitter: @MattBowen41