August 18, 2010 -
Matt Bowen
Are Dungy's comments on Rex Ryan off base?
One of the benefits (if there are any) of having a career that can be labeled with the word "journeyman" is that I was able to play for a number of head coaches and coordinators. Mike Martz, Mike Sherman, Steve Spurrier, Joe Gibbs and Dick Jauron. Five head coaches in seven years and with coordinators like Lovie Smith and Gregg Williams on top of that, you get to see both sides of the coaching spectrum.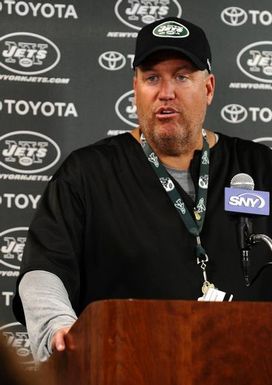 ICONRex Ryan took some criticism from Tony Dungy this week.
In saying that, I still don't understand the criticism (or opinion if we want to say it that way) by former Colts head coach Tony Dungy directed at Rex Ryan and his "cursing." Dungy also went on to say that he wouldn't hire a coach who uses language like Ryan. I understand that we view Dungy as a well-respected former head coach in the league — and the definition of class — but was that really necessary? Give Ryan credit for taking it in stride and even inviting Dungy to check out practice, but it still didn't need to be said.
From my point of view, coaching works on so many different levels and with so many different styles. But, it all comes down to relating to players. We can say that about any level of football from high school to the NFL. If the players understand what you are teaching, how you say it doesn't mean much.
For example, Joe Gibbs was as clean as they come. I can't remember coach Gibbs ever using a word that could be labeled "inappropriate." On the flip side, across the hall in the defensive meeting room, Gregg Williams — a coach who I still say is the best I played for — liked to use some, well, language. Did it bother us? No, not at all. It was the coaching that we cared about. And we bought into it everyday.
I have talked with guys who played for Rex, and I have never heard one of them say a negative word. In fact, the response I always get: "You would love to play for him."
Isn't that what matters? I would have liked the opportunity to play for a coach who is brash, doesn't hold back and isn't afraid to challenge the media and the fans. I dig that stuff as a former player. And, I would also have liked to play for Dungy. Two different styles — but when you are that good as a coach, you find a way to make them work.
The point here is simple: it was an unwarranted reaction from Dungy. We all understand that this is magnified by the Jets appearance on HBO's "Hard Knocks," but as Rex's father, Buddy, recently said, it really isn't any of Dungy's business. It works in New York and it works for the Jets.
Players react to good coaching — no matter how it is delivered in the NFL. But, maybe I am the one who is off base here. You tell me...
Follow me on Twitter: MattBowen41
Click here to purchase the Total Access Pass/ Fantasy Draft Guide from the NFP and receive a free Deuce Brand watch while supplies last.