August 31, 2011 -
Matt Bowen
Are the 49ers taking a big risk with Gore?
When Frank Gore was a rookie, he took a basic Lead Strong, used his vision to cut back vs. a Cover 2 front, hit the alley and ran right past the safety—on the way to a long TD. A big time play.
That safety now chasing from behind? The one that couldn't close the gap?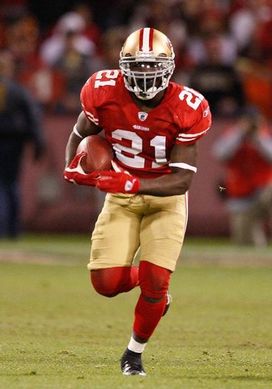 ICONDid the 49ers take a future risk by signing Gore to a three-year extension?
Yeah, that was me.
I blamed it on ACL rehab (which was a lie), but I had no chance of cutting the angle to Gore. And to be honest, I didn't expect him to cut back and use his speed to jump to the second level of the defense like that.
But here's my question: after signing a three-year extension in San Fran on Tuesday, can Gore still do that on a consistent basis?
He is now 28-years old and has taken some hits. Add in the injuries (fractured hip in 2010) and I am wondering if the RB is worth that type of investment.
Gore is going to cash out with $21-million million in new money ($13 million guaranteed). Not near the contract that the Panthers handed out to DeAngelo Williams (5-years, $43-million, $21 million guaranteed), and still less that I expect to see the Bears pay out to Matt Forte—eventually.
But as I have said before when discussing the contract situation with Chris Johnson and the Titans, RBs just don't last. Those treads on the tires wear down and the hits start to add up. Open field speed (plus the quickness in the hole) begins to diminish.
When that happens, it is time to make a switch at the position with young, fresh talent.
No question that Niners fans should be excited that a contract is done. Now they get their guy back on the field without talk of guarantees or holdouts. And when healthy, Gore can play some football. Runs with low pad level, can cutback against pursuit and goes hard through the hole.
But don't kid yourself, because there is some risk involved here. San Francisco just handed out some guaranteed money to a player with an injury history. And he plays a position that doesn't always give you the return on your investment.
Follow me on Twitter: MattBowen41