July 29, 2011 -
Matt Bowen
Are the holdouts coming?
The contract that the Panthers gave out to DeAngelo Williams this week—one that included $21 million in guaranteed money—is big for Carolina. Smart play to keep the core talent in place for rookie QB Cam Newton.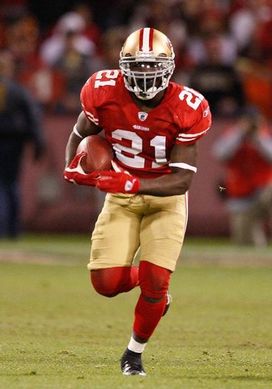 ICONGore wants a new deal done with the 49ers.
But for the rest of the league? All this does is create leverage for veteran RBs that are looking for a new deal.
Take Chris Johnson in Tennessee. From my perspective, the most explosive weapon on offense in the NFL. And a key part to building a winner down in Nashville. But take Johnson away from that game plan and we are looking at a very easy team to defend. The Titans need to pay up here--soon.
49ers RB Frank Gore is looking for a new contract. Even with Anthony Dixon as a backup, there is no question that Gore is the No.1 in San Francisco. Not as an easy way to start camp for new head coach Jim Harbaugh if his top back is absent.
In Chicago? Matt Forte has put up the numbers that should be rewarded with new money. A key part to Mike Martz' scheme running the football and being used as a receiver out of the backfield. We could see a holdout start very soon at Bears camp.
This is nothing new, because once a player sets the market at any position; everyone around the league is going to want in on that action. Like I said above, good move by the Panthers, but the fallout for the Titans, Niners and Bears is going to be interesting to watch.
And holdouts can do a number on the locker room.
Follow me on Twitter: MattBowen41