December 14, 2010 -
Matt Bowen
Are the Jets in trouble?
The Jets have issues right now from an offensive perspective. We saw that in the 45-3 loss to the Patriots last Monday night and again on Sunday in the 10-6 loss to the Dolphins. They look stale and it starts with Mark Sanchez.
What I see is a player who is forcing throws and making poor decisions that should be reserved for a rookie playing out the string of the schedule. Instead, we are talking about a second-year QB who is taking steps backwards in terms of his overall development.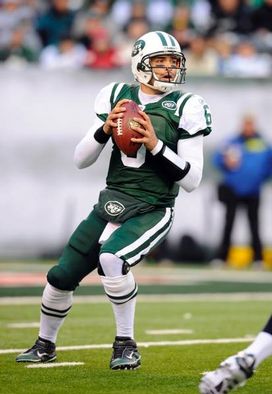 ICONSanchez's lack of production and decision making is an issue for the Jets.
Go back to the Monday night game and the red zone pick vs. a basic Cover 2 look. Can't throw the skinny post in that situation. On Sunday? Leaves the game with only one interception, but there were multiple throws that I had to question—almost as if Sanchez was having trouble reading zone droppers. Only completes 17 of 44 pass attempts. It shouldn't surprise any of us that Rex Ryan thought about sitting him down on Sunday.
We can all agree that the running game needs to be better. That is the game plan for the Jets. Get Shonn Greene and LaDainian Tomlinson going in those 2-back looks. Basic, off-tackle schemes that set up their QB with third and very manageable situations. What that does is allow offensive coordinator Brian Schottenheimer to use the 3-step passing game, the movement passes (boot, sprint, dash) and give Sanchez real options. Work with WR Santonio Holmes on the quick 3-step slant where he can win at the line of scrimmage. Align in bunch formations, stack looks and use pre-snap motion to get the receivers working away from a defender's leverage on short underneath crossing routes. Simple reads and simple throws that allow this team to win.
Does that mean you shorten the playbook and turn Sanchez into that "game manager" where he hands the ball off all day? No, because if the Jets are going to make a run—starting with Pittsburgh this Sunday—Sanchez will have to make some plays in crucial situations. The 2-minutes drill (like we saw in the win over Houston), in the red zone and when the Jets are down in the second half of a ball game. He has to find a way to bring them back.
This defense in New York under Ryan is good enough to win now and in the playoffs. But, the quarterback play has to improve. There can't be turnovers and sanchez has to show some sense of poise and control over this offense. Keep it simple, but always know that there will be situations over the next three weeks where Sanchez will need to make a big play—and the season could be riding on it. Time for the Jets' QB to show up.
Follow me on Twitter: MattBowen41