August 13, 2010 -
Matt Bowen
Are the Jets vulnerable without Revis?
Let's talk about Darrelle Revis this morning. But instead of focusing on when a deal may or may not get done, let's stick to actual football on the field — because the Jets will look different as a defense without him.
When I look at defenses, I try to analyze them from an offensive perspective. Without Revis, the Jets can still pressure and still use a wide variety of blitz packages. That is who they are — and one player isn't going to change that. I even wrote about it before, because pressure teams don't need a true "lockdown" corner to have success.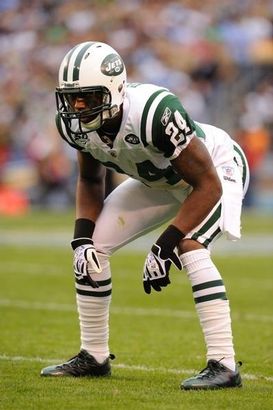 ICONWithout Revis, offenses will have more opportunities against the Jets.
But, from the perspective of an offensive coordinator, the Jets would be game planned and attacked differently. We have to understand that offensive coaches work and put together their weekly game plans based on personnel and the matchups they are going to see. In the '09 season, that meant finding a way to get your No. 1 receiver in a situation where he didn't have to work against Revis. Pre-snap motion, creative formations and aligning that player out of position. Because, we saw what Revis can do when he draws a straight matchup with a name like Randy Moss.
However, when he is not on the field, let's look at what Miami's Brandon Marshall, Moss and Buffalo's Lee Evans will see — Antonio Cromartie and rookie Kyle Wilson.
If I am game planning the Jets, the first thing I do is test Cromartie in the run game. Make him set the edge of the defense and consistently run the ball at him. Wear him out until he shows me he can come up, defeat a block and make a solid tackle. After that, I double-move him. Cromartie plays with lazy technique and takes chances. Run the hitch, the smash route and the out — and then convert it up the field. Test his technique.
With Wilson, I throw at him because he is a rookie. The first-round pick may develop into a starting CB in this league, but until that happens, I test him underneath and in the vertical game until he either makes a play or Rex has to take him out of the game. That happens across the league. Rookie CBs — no matter how much hype they have — are big fish. They have to step up and show that they can handle the speed and the complexity of the NFL game before offenses look elsewhere. As a sub package corner (nickel, dime), Wilson is a fit. But without Revis, he is thrown into the fire as a starter.
My point here is simple, though of course it goes a lot deeper than just Cromartie and Wilson if Revis and the Jets can't work this thing out. But, we also have to be honest. The Jets can win and they can still see success on the field without Revis, but to say that there won't be any effect on the defense isn't realistic. Opposing offenses will love the idea of having back one entire half of the field to work with, and the opportunities will increase to test the Jets in the passing game.
The pressure and the confidence from Ryan's defense will always exist as long as he is the head coach (something that I value as a former player), but the end result is that offenses will be more confident in their play calling without Revis on the field.
Does that signal a defense that is vulnerable? You tell me…
Follow me on Twitter: MattBowen41
Click here to purchase the Total Access Pass/ Draft Guide from the NFP and receive a free Deuce Brand watch while supplies last.