July 26, 2010 -
Matt Bowen
Are the Rams the only option for T.O.?
Terrell Owens draws some interest
Over the weekend, Chris Mortensen of ESPN reported that the Rams are showing some real interest in the veteran WR. Not surprising to see clubs try and make a move before camp starts, but the Rams and T.O.?
I don't see why the Rams—who are still rebuilding with young talent—want to take on the challenge of Owens with a possible rookie QB in Sam Bradford at some point this season. Not a value move when it comes to the team's development.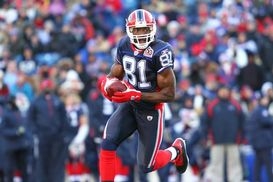 ICONOwens hasn't drawn much interest this summer.
Yes, that roster needs players—especially at the WR position. Donnie Avery can play, and I do like where rookie Mardy Gilyard projects as a pro. He can make a career playing inside of the numbers in the slot against an opposing defense's No.3 corner. Besides that? Players who aren't going to stand out on tape. Easy to insert Owens on that roster and expect him to play and contribute from day one.
But, we are talking about a team that still needs time before they can compete. Not a great landing spot for an older veteran who wants to play for a contender.
The bigger question for Owens: where are those contenders? We can argue all day about whether or not T.O. can still play, can still stretch the field and so on. I don't see a player who is worth a big paycheck, but that is just my opinion.
The proof is right in front of us. The entire league is preparing for training camp, coaches are back in the office and players are finishing up their conditioning programs and heading back to town. The interest for T.O.? Lukewarm at best. Some talk from the Bengals, but again, that is just talk for now. A much better option for Owens if the interest level rises in Cincy.
Bulluck and the Giants
The Giants signed former Titans LB Keith Bulluck over the weekend in the hopes of replacing retired MLB Antonio Pierce. From a leadership perspective, it is a good idea to find a replacement. I played with Antonio in Washington. He is very good in the locker room and very, very good in the huddle. You need that on your defense when we talk about the Mike Backer position.
But, how will Bulluck fit in new defensive coordinator Perry Fewell's scheme in New York? And, what are the questions surrounding the knee injury?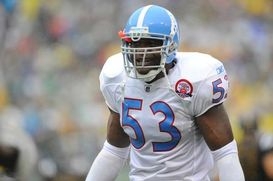 ICONBulluck heads to New York.
Fewell is a Tampa 2 coach. He worked under Lovie Smith previously in his career, and I know this defense well having played for both coaches at different points in my career. The Mike Backer is essential to the success of the scheme. Run and match with the inside vertical seam, pursue to the football and be able to shed a block and make a play. Fewell will switch up his schemes, and does implement some Cover 1 and Cover 3 calls along with his pressure packages, but playing the Tampa 2 is still a core defense in his playbook.
Bulluck isn't built like a traditional Mike Backer. He is long and lean and his athletic ability might be enough for him to succeed under Fewell. I was told by some of his former teammates over the weekend that he isn't a player that looks for contact, and is probably better suited as an off the ball Sam (or strong side) linebacker. But, in New York, he will have a shot to win the job.
The knee? Not a good thing when you tear an ACL late in the season—as Bulluck did in December. I wrote about this a couple of weeks back, and in reality, the recovery process will last into the following season. Tough to judge until we see him on the field, but is also something to watch closely. Especially, when he is matched up against the TE talent in the NFC East.
Ready for fantasy football? Click here to purchase the Total Access Pass/ Draft Guide from the NFP.
Follow me on Twitter: MattBowen41